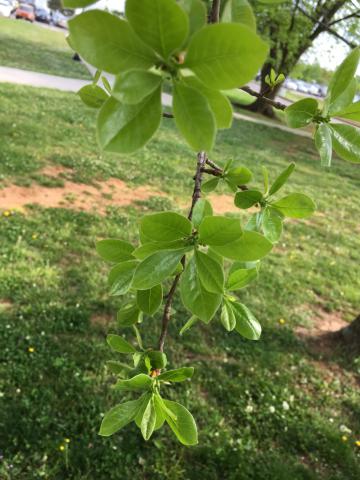 Nyssa sylvatica
Marshall
sec. Tennessee Flora 2014
common name: blackgum
family: Cornaceae
Refer to this permanent identifier for the image:
http://bioimages.vanderbilt.edu/phoebusp/ysy02

Use this URL as a stable link to this image page:
http://bioimages.vanderbilt.edu/phoebusp/ysy02.htm
Location information for the occurrence documented by this image:
McFarland Photography Building, MTSU Boulevard, Rutherford County, Tennessee, US


35.8491444444

° latitude,

-86.3625805556

° longitude
Coordinate uncertainty: about 10 m
Location determined from camera GPS.
This image documents an organism that has the permanent identifier:
http://bioimages.vanderbilt.edu/mtsu/27
Intellectual property information about this image:
Image creator:

Patrick Phoebus

; created on
2016-04-27T09:38:08-06:00
To cite this image, use the following credit line:
"Patrick Phoebus http://bioimages.vanderbilt.edu/"
If possible, link to the stable URL for this page.
Click this link for contact information about using this image
Tennessee Flora 2014 =
Tennessee Flora Committee, 2014. Guide to the Vascular Plants of Tennessee (editors: E. W. Chester, B. E. Wofford, J. Shaw, D. Estes, and D. H. Webb). The University of Tennessee Press, Knoxville, TN, US.