Bioimages home (click on an image to enlarge)
view this page in its intended navigation context
Southeastern mixed forests (WWF ecoregion NA0413)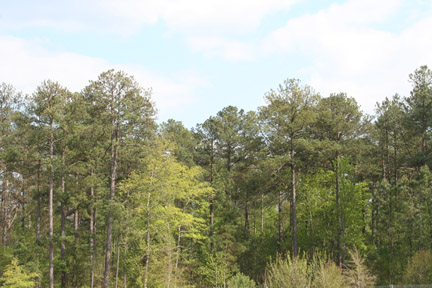 Sumter National Forest, South Carolina (c) 2008 Steven J. Baskauf

Source of bioregions data: Olson, D. M. and E. Dinerstein. The Global 200: Priority ecoregions for global conservation. (PDF file) Annals of the Missouri Botanical Garden 89:125-126.
Distinctiveness (1=highest,4=lowest): 1 (globally outstanding)
The freshwater ecosystems in this ecoregion are among the richest in the temperate latitudes. The ecoregion is a center of gastropod diversity and is rich in amphibian, reptile, bird and shrub species. It has a high number of endemic reptiles, amphibians, butterflies, and mammals.*
Conservation Status (1=most endangered, 5=most intact): 1 (critical)
99% of the habitat has been converted to agriculture or other uses.*
Characteristic species*


Pinus palustris (longleaf pine) (c) 2005 Lisa Kelly

Pinus echinata (shortleaf pine)

Pinus taeda (loblolly pine)

Quercus species (oaks)

Carya species (hickories)

Cornus species

Cercis canadensis (redbud)

Juniperus species
Some associated habitats
Piedmont, northwestern South Carolina


The Appalachian Mountains are visible in the background. (c) 2008 Steven J. Baskauf hires hires

Sumter National Forest, South Carolina


(c) 2008 Steven J. Baskauf hires hires hires hires

roadside forest near Meridian, Mississippi


(c) 2011 Steven J. Baskauf hires hires

Granite outcrop, northeast Georgia


Granite outcrops are among the few habitats in good condition in this ecoregion. Sabatia quadrangula is shown here. (c) 2005 Katherine Gould Mathews hires
* Ricketts, T.H., E. Dinerstein, D.M. Olson, C.J. Loucks, et al. (1999) Terrestrial Ecoregions of North America: A Conservation Assessment. World Wildlife Fund - United States and Canada. Island Press, Washington, D.C. pp. 164-166.
Except as noted, images copyright 2002-2004 Steve Baskauf - Terms of use