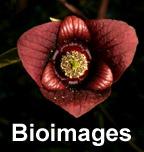 Welcome to the redesigned Bioimages!


http://bioimages.vanderbilt.edu/
In general, if you click on an image or thumbnail, it will lead you to an appropriate place.
The images on the left lead to major features of the site as well as the old version of the website.

The site has been redesigned to make it easier to use on portable devices and to bring it in line with current biodiversity information standards.

Current status:
All of the plant images have been moved to the new version of the site. Image screening features have been developed and lists are being created. Animal and ecoregions images will follow.
Principles

The following principles guided the redesign process:
Support for portable devices
To find out more about these principles, click on the appropriate links above.

Link to SERNEC talk on GUIDs (2010 April 10)
Link to Botany 2010 talk (2010 Aug 3)
Recommendations for implementation of guids in the SERNEC collections community

For additional information, contact Steve Baskauf

Last modified: