Bioimages home (click on an image to enlarge)
view this page in its intended navigation context
Rock and ice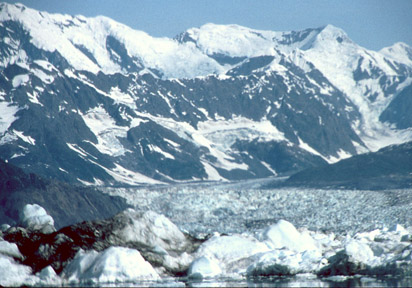 glacier entering Prince William Sound, near Valdez, Alaska (c) 2005 Scott and Ruth Bassett

Source of bioregions data: Olson, D. M. and E. Dinerstein. The Global 200: Priority ecoregions for global conservation. (PDF file) Annals of the Missouri Botanical Garden 89:125-126.
Distinctiveness (1=highest,4=lowest): N/A
These areas are covered by permanent glaciers and unvegetated rock. These areas are present at the top of high peaks, although large glaciers may flow to the sea near the coast.
Conservation Status (1=most endangered, 5=most intact): N/A
Because of lack of living communities, species in these areas are not threatened, although global climate change is resulting in the decrease of glaciated areas.*
Some views from the ecoregion
Denali National Park, Alaska

glaciers atop Mt. Ranier (c) 2005 Carol and Steve Baskauf hires
Portage Glacier, Alaska


Glacier entering Cook Inlet (c) 2005 Carol and Steve Baskauf hires
Plain of Six Glaciers, Banff National Park, Alberta



left: crevases in glacier, right: lateral moraines left after the retreat of the melting glacier (c) 2005 Scott and Ruth Bassett hires hires
* Ricketts, T.H., E. Dinerstein, D.M. Olson, C.J. Loucks, et al. (1999) Terrestrial Ecoregions of North America: A Conservation Assessment. World Wildlife Fund - United States and Canada. Island Press, Washington, D.C. pp. 337-340.