Bioimages home (click on an image to enlarge)
view this page in its intended navigation context
Snake-Columbia shrub steppe (WWF ecoregion NA1309)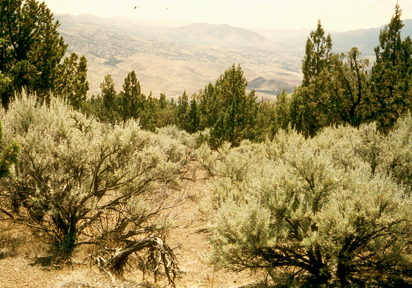 eastern Oregon (c) 2005 Carol J. Baskauf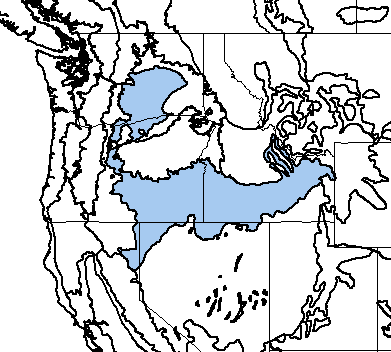 Source of bioregions data: Olson, D. M. and E. Dinerstein. The Global 200: Priority ecoregions for global conservation. (PDF file) Annals of the Missouri Botanical Garden 89:125-126.
Distinctiveness (1=highest,4=lowest): 3 (bioregionally outstanding)
Sagebrush dominates the vegetation. Isolated mountain ranges contain fir and aspen species. *
Conservation Status (1=most endangered, 5=most intact): 2 (endangered)
Overgrazing, fire suppression, and invasive grasses are the major threats to the ecoregion. Conversion to agriculture creates fragmentation.*
Characteristic species*


Artemisia tridentata (big sagebrush)
Artemisia tripartita (threetip sagebrush)
Agropyron spicatum or

Pseudoroegneria spicata ssp. spicata (bluebunch wheatgrass)
Festuca idahoensis (Idaho fescue)
Salix spp. (willows)
Associated habitats
arid steppe, Klickitat Co., Washington




(c) 2005 Steven J. Baskauf hires hires hires
riparian area, Columbia River near The Dalles, Washington



(c) 2005 Steven J. Baskauf hires hires
savanna, Lassen Co., California


(c) 2005 James H. Bassett hires
* Ricketts, T.H., E. Dinerstein, D.M. Olson, C.J. Loucks, et al. (1999) Terrestrial Ecoregions of North America: A Conservation Assessment. World Wildlife Fund - United States and Canada. Island Press, Washington, D.C. pp. 337-340.