Bioimages home (click on an image to enlarge)
view this page in its intended navigation context
Great Basin shrub steppe (WWF ecoregion NA1305)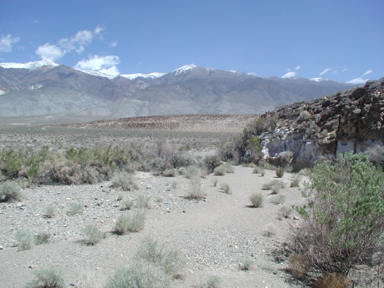 Owens Valley, near Bishop, Inyo Co., CA (c) 2005 Daniel P. Duran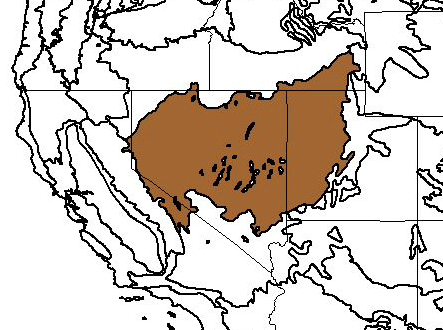 Source of bioregions data: Olson, D. M. and E. Dinerstein. The Global 200: Priority ecoregions for global conservation. (PDF file) Annals of the Missouri Botanical Garden 89:125-126.
Distinctiveness (1=highest,4=lowest): 3 (bioregionally outstanding)
This region has numerous threatened and endangered species.*
Conservation Status (1=most endangered, 5=most intact): 4 (relatively stable)
Less than 10% of the basin remains intact. Native annuals suffer under heavy grazing and invasion of cheatgrass and Russian thistle have disrupted the species composition. Mining and urbanization are also threats.*
Characteristic species*
Artemisia spp. (sagebrush)
Atriplex spp. (saltbrush)
Ceratoides lanata (winterfat)
Chrysothamnus (rabbitbrush)
Coleogyne (blackbrush)
Grayia (hopsage)
Tetradymia (horsebrush)
Associated habitats
Mine tailings and abandoned town, Mono County, California


(c) 2005 James H. Bassett hires
* Ricketts, T.H., E. Dinerstein, D.M. Olson, C.J. Loucks, et al. (1999) Terrestrial Ecoregions of North America: A Conservation Assessment. World Wildlife Fund - United States and Canada. Island Press, Washington, D.C. pp. 328-330.
Except as noted, images copyright 2002-2004 Steve Baskauf - Terms of use