Bioimages home (click on an image to enlarge)
view this page in its intended navigation context
Chihuahuan Desert (WWF ecoregion NA1303)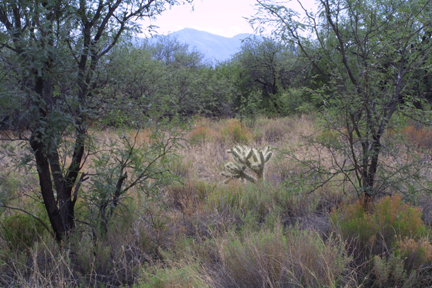 shrubland, southeastern Arizona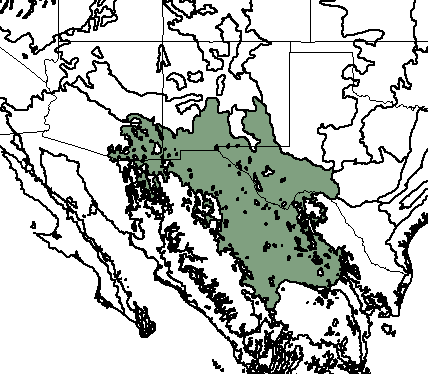 Source of bioregions data: Olson, D. M. and E. Dinerstein. The Global 200: Priority ecoregions for global conservation. (PDF file) Annals of the Missouri Botanical Garden 89:125-126.
Distinctiveness (1=highest,4=lowest): 1 (globally outstanding)
Measured by either species richness or endemism, this ecoregion may be the most biologically diverse desert in the world. It contains over 250 species of butterflies, 100 mammals, 250 birds, 100 reptiles, 20 amphibian, and 100 cacti.*
Conservation Status (1=most endangered, 5=most intact): 3 (vulnerable)
This ecoregion is heavily degraded due to overgrazing, invasion by brush and shrubby trees, and fire supression. This has resulted in conversion from an area lush with native grasses and relatively free of shrubs to desert shrubland. Threats also include urbanization, agricultural expansion, and resource extraction.*



Larrea tridentata (creasote bush) desert resulting from overgrazing, north of Truth or Consequences, New Mexico (c) 2004 Maurice J. Kaurmann hires
Characteristic species*
Larrea tridentata

(

creosote bush

)

Florensia cernua (tarbush)

Acacia spp. (acacia)

Muhlenbergia porteri (bush muhly)

Bouteloua gracilis (blue grama)

Sporobolus wrightii (big sacaton)
Associated habitats


monsoon rainstorm in August, Amado, Arizona hires
* Ricketts, T.H., E. Dinerstein, D.M. Olson, C.J. Loucks, et al. (1999) Terrestrial Ecoregions of North America: A Conservation Assessment. World Wildlife Fund - United States and Canada. Island Press, Washington, D.C. pp. 341-344.
Except as noted, images copyright 2002-2004 Steve Baskauf - Terms of use