Bioimages home (click on an image to enlarge)
view this page in its intended navigation context
California Interior Chaparral and Woodlands (WWF ecoregion NA1202)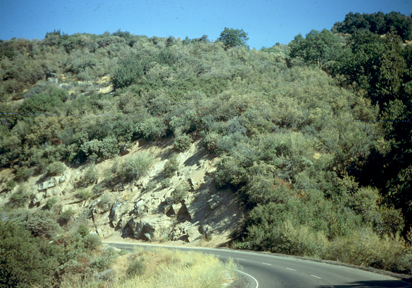 Chaparral east of Fresno, California (c) 2004 Maurice J. Kaurmann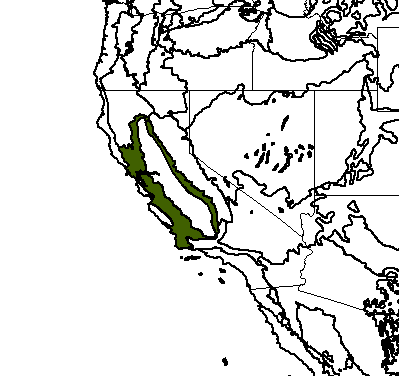 Source of bioregions data: Olson, D. M. and E. Dinerstein. The Global 200: Priority ecoregions for global conservation. (PDF file) Annals of the Missouri Botanical Garden 89:125-126.
Distinctiveness (1=highest,4=lowest): 1 (globally outstanding)
This ecoregion contains a mosaic of communities, including grasslands, chaparral shrublands, open oak savannas, serpentine communities, closed-cone pine forests, wetlands, and salt marshes. Some of these communities are unique to California. The ecoregion supports a relatively large number of endemic plant and animal species. *
Conservation Status (1=most endangered, 5=most intact): 3 (vulnerable)
Approximately 30% of the ecoregion is intact, concentrated in steeper areas. Fragmentation by development, fire supression, overgrazing, conversion to annual grasses, and introduction of invasive species are threats.*
Characteristic species*
Pinus sabiniana (foothill pine)

Quercus douglasii (blue oak)

Aesculus californica (California buckeye)

Arctostaphylos spp. (manzanita) (c) 2004 Maurice J. Kaurmann

Cercis occidentalis (redbud)

Adenostoma fasciculatum (chamise)

Quercus dumosa (scrub oak)
Soda Lake area, Carrizo Plain, San Luis Obispo Co., California


(c) 2005 Daniel P. Duran hires
* Ricketts, T.H., E. Dinerstein, D.M. Olson, C.J. Loucks, et al. (1999) Terrestrial Ecoregions of North America: A Conservation Assessment. World Wildlife Fund - United States and Canada. Island Press, Washington, D.C. pp. 314-317.
Except as noted, images copyright 2002-2004 Steve Baskauf - Terms of use