Bioimages home (click on an image to enlarge)
view this page in its intended navigation context
Interior Yukon/Alaska alpine tundra (WWF ecoregion NA1111)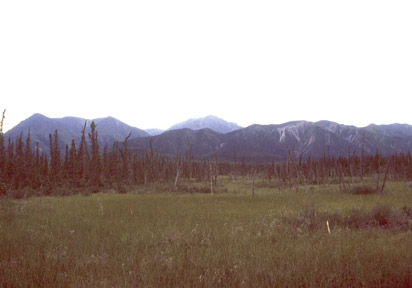 Black spruce and tundra near Beaver Creek, Yukon Territory (c) 2005 Scott and Ruth Bassett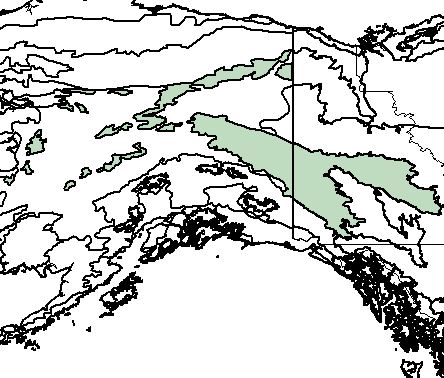 Source of bioregions data: Olson, D. M. and E. Dinerstein. The Global 200: Priority ecoregions for global conservation. (PDF file) Annals of the Missouri Botanical Garden 89:125-126.
Distinctiveness (1=highest,4=lowest): 2 (regionally outstanding)
This ecoregion contains a variety of large mammals and predators.*
Conservation Status (1=most endangered, 5=most intact): 4 (relatively stable)
About 85% of this ecoregion remains intact. Mining and road development are the main disturbances.*
Characteristic species*


Picea glauca (white spruce)

Picea mariana (black spruce)
Betula spp. (birch)
Salix spp. (dwarf willows)
Betula papyrifera (paper birch)

Betula balsamea (balsam poplar)
Dryas hookeriana (mountain avens)
Associated habitats
Black spruce, near Beaver Creek, Yukon Territory


(c) 2005 Scott and Ruth Bassett hires
Tundra, south of the Brooks Range, Alaska




center: Stunted trees along the Dalton Hwy. approaching the southern foothills of the Brooks Range (note elevated pipeline at left) right: Undulations caused by movement of the permafrost below the tundra. (c) 2005 Scott and Ruth Bassett hires hires hires
Willows, near the Arctic Circle, Alaska



(c) 2005 Scott and Ruth Bassett hires hires
Black spruce and caribou, near Mancha Creek, Arctic National Wildlife Refuge, Alaska



(c) 2006 Dallas Smith hires hires
* Ricketts, T.H., E. Dinerstein, D.M. Olson, C.J. Loucks, et al. (1999) Terrestrial Ecoregions of North America: A Conservation Assessment. World Wildlife Fund - United States and Canada. Island Press, Washington, D.C. pp. 390-392.
Except as noted, images copyright 2002-2005 Steve Baskauf - Terms of use