Bioimages home (click on an image to enlarge)
view this page in its intended navigation context
Arctic foothills tundra (WWF ecoregion NA1104)



Foothills, n. of Brooks Range, Alaska (c) 2005 Natasha Sherman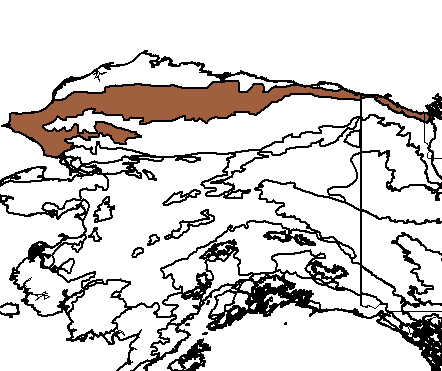 Source of bioregions data: Olson, D. M. and E. Dinerstein. The Global 200: Priority ecoregions for global conservation. (PDF file) Annals of the Missouri Botanical Garden 89:125-126.
Distinctiveness (1=highest,4=lowest): 1 (globally outstanding)
Top-level predators remain in this ecoregion, which provides important denning sites for brown bears and wolves. It is an important migration corridor for caribou herds.*
Conservation Status (1=most endangered, 5=most intact): 4 (relatively stable)
Currently this ecoregion is one large, intact block of habitat. However coal and mineral development in the western half could cause severe and permanent damage.*
Characteristic species*
Eriophorum vaginatum (cottongrass)

Carex bigelowii (Bigelow's sedge)

Betula nana (dwarf birch)

Empetrum nigrum (black crowberry)

Ledum decumbens (Labrador tea)

Vaccinium vitis-idaea (cowberry)
Some views from the ecoregion


musk oxen, foothills north of Brooks Range (c) 2005 Natasha Sherman hires
* Ricketts, T.H., E. Dinerstein, D.M. Olson, C.J. Loucks, et al. (1999) Terrestrial Ecoregions of North America: A Conservation Assessment. World Wildlife Fund - United States and Canada. Island Press, Washington, D.C. pp. 337-340.