Bioimages home (click on an image to enlarge)
view this page in its intended navigation context
Western Short Grasslands (WWF ecoregion NA0815)



Pronghorn, Veedavoo, n. of Ft. Collins, Colorado (c) 2004 Maurice J. Kaurmann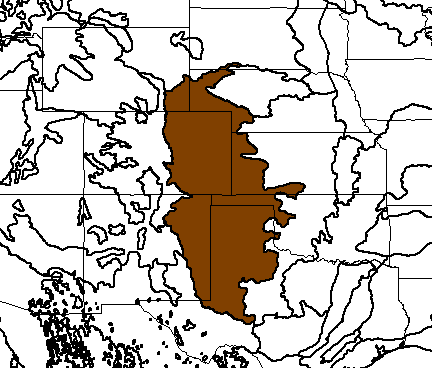 Source of bioregions data: Olson, D. M. and E. Dinerstein. The Global 200: Priority ecoregions for global conservation. (PDF file) Annals of the Missouri Botanical Garden 89:125-126.
Distinctiveness (1=highest,4=lowest): 2 (regionally outstanding)
Among the richest in North America for butterflies, birds, and mammals.*
Conservation Status (1=most endangered, 5=most intact): 2 (endangered)
Approximately 40% of habitat remains intact, the highest among large grassland ecoregions in North America. Conversion to cropland is the greatest threat. This ecoregion is relatively tolerant of overgrazing, but in the south this has allowed the invasion of woody shrubs and trees, such as Prosopis glandulosa (honey mesquite), resulting in near permanent conversion to desert scrublands.*

Characteristic species*
Bouteloua gracilis (grama grass)

Buchloe dactyloides (buffalo grass) (c) 2004 Maurice J. Kaurmann

Bison bison (bison)
Associated habitats


Twin Buttes area, east of Ft. Collins, Colorado (c) 2004 Maurice J. Kaurmann hires


High plains bluffs, Texas panhandle (c) 2005 Carol J. Baskauf hires
* Ricketts, T.H., E. Dinerstein, D.M. Olson, C.J. Loucks, et al. (1999) Terrestrial Ecoregions of North America: A Conservation Assessment. World Wildlife Fund - United States and Canada. Island Press, Washington, D.C. pp. 297-299.
Except as noted, images copyright 2002-2004 Steve Baskauf - Terms of use