Bioimages home (click on an image to enlarge)
view this page in its intended navigation context
Northern Mixed Grasslands (WWF ecoregion NA0810)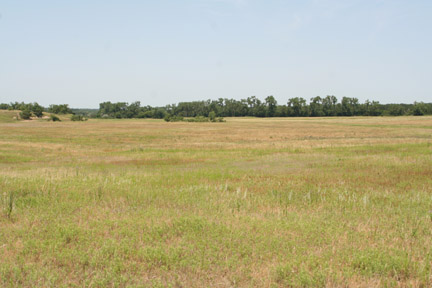 Prairie, eastern Nebraska (c) 2008 Steven J. Baskauf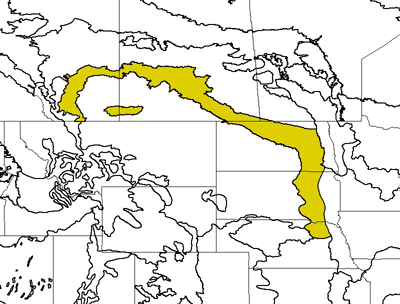 Source of bioregions data: Olson, D. M. and E. Dinerstein. The Global 200: Priority ecoregions for global conservation. (PDF file) Annals of the Missouri Botanical Garden 89:125-126.
Distinctiveness (1=highest,4=lowest): 4 (nationally important)
As a transitional grassland between tallgrass and shortgrass prairies, this area shares species with surrounding ecoregions. The presence of many glacial pothole lakes makes it an important breeding area for waterfowl. *
Conservation Status (1=most endangered, 5=most intact): 1 (critical)
This is the most disturbed of North American grassland ecoregions, with only tiny remnant patches of intact habitat, all of which is disturbed. Up to 80% of the wetlands have been lost or degraded.*
Characteristic species*
Bouteloua gracilis (grama grass)


Schizachyrium scoparium (little bluestem)
Stipa comata (needle-and-thread)
Agropogon smithii (wheatgrass)
Carex filifolia
Koelaria cristata (junegrass)
Poa secunda
Some views from the ecoregion
western edge of ecoregion, eastern Nebraska.




At the western edge of the ecoregion, most of the land is used for grazing and has intact grasslands. (c) 2008 Steven J. Baskauf hires hires
center of ecoregion, eastern Nebraska.



(c) 2008 Steven J. Baskauf hires
agriculture at eastern edge of ecoregion, eastern Nebraska.



As one travels from west to east through the ecoregion, it becomes increasingly difficult to find uncultivated grassland. At the eastern edge, nearly all of the land is in intensive maize and soybean production (c) 2008 Steven J. Baskauf hires
* Ricketts, T.H., E. Dinerstein, D.M. Olson, C.J. Loucks, et al. (1999) Terrestrial Ecoregions of North America: A Conservation Assessment. World Wildlife Fund - United States and Canada. Island Press, Washington, D.C. pp. 190-191.