Bioimages home (click on an image to enlarge)
view this page in its intended navigation context
Montana Valley and Foothill grasslands (WWF ecoregion NA0808) View National Geographic WildWorld profile,(WildWorld WWF Wildfinder animal species list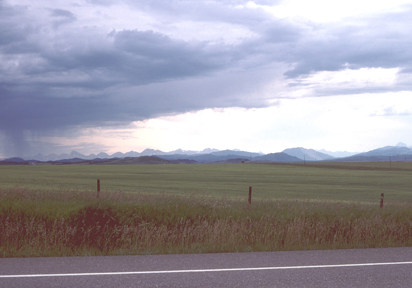 prairie near front range of Alberta (c) 2005 Scott and Ruth Bassett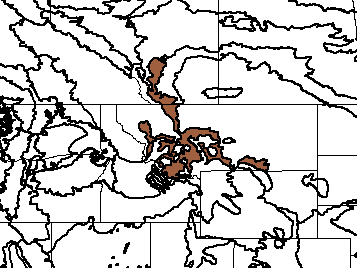 Source of bioregions data: Olson, D. M. and E. Dinerstein. The Global 200: Priority ecoregions for global conservation. (PDF file) Annals of the Missouri Botanical Garden 89:125-126.
Distinctiveness (1=highest,4=lowest): 4 (nationally important)
The region has a high diversity of vegetation communities in close proximity to each other. The undeveloped valleys provide critical links between mountain ranges, allowing for dispersal of large mammals, including Ursus acrtos (grizzly bear).*
Conservation Status (1=most endangered, 5=most intact): 3 (vulnerable)
Approximately 25% of this ecoregion remains intact. Grazing, draining wetlands, conversion to row crops, and residential development are major threats. Subdivision for homes results in fragmentation and facilitates the introduction of invasive species.*
Characteristic species*
Agropyron (wheatgrass) species
Fescuta (fescue) species
Artemisia (sagebrush) species
* Ricketts, T.H., E. Dinerstein, D.M. Olson, C.J. Loucks, et al. (1999) Terrestrial Ecoregions of North America: A Conservation Assessment. World Wildlife Fund - United States and Canada. Island Press, Washington, D.C. pp. 190-191.