Bioimages home (click on an image to enlarge)
view this page in its intended navigation context
Edwards Plateau savanna (WWF ecoregion NA0806)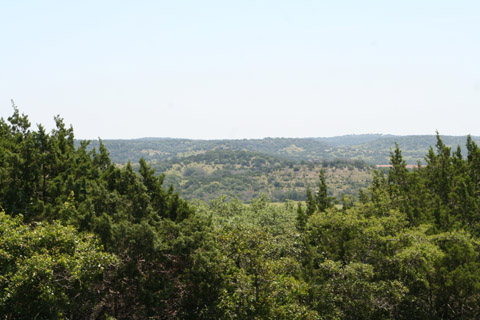 hills near Kerrville, Texas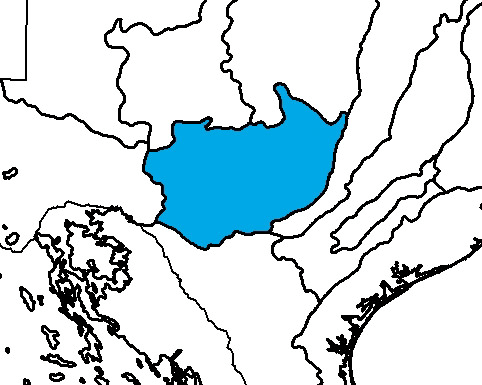 Source of bioregions data: Olson, D. M. and E. Dinerstein. The Global 200: Priority ecoregions for global conservation. (PDF file) Annals of the Missouri Botanical Garden 89:125-126.
Distinctiveness (1=highest,4=lowest): 2 (regionally outstanding)
The underlying bedrock supports limestone specialists including huge aggregations of bats. It also is an important habitat for birds and reptiles.*
Conservation Status (1=most endangered, 5=most intact): 1 (critical)
Two percent of habitat is still intact. Fire suppression, urbanization, overgrazing, and logging have contributed to exosystem degradation.*
Characteristic species*


Juniperus spp. (junipers)

Quercus spp. (oaks)

Prosopis spp. (mesquites)
Acacia spp. (acacias)
Tadarida brasiliensis (Mexican free-tailed bat)
Some views from the ecoregion
Shrubland, near Comfort, Texas
Hilltop, near Kerrville, Texas



(left) Oak, pine, and juniper vegetation. (right) Junipers growing on shallow limestone soil. hires hires
Limestone hills, near Ingram, Texas




(left) This roadcut shows the limestone underlying the hills. (center) A thin layer of soil covers the limestone bedrock. (right) Junipers are shrubs that typically grow on shallow soils in karst formations. hires hires hires
* Ricketts, T.H., E. Dinerstein, D.M. Olson, C.J. Loucks, et al. (1999) Terrestrial Ecoregions of North America: A Conservation Assessment. World Wildlife Fund - United States and Canada. Island Press, Washington, D.C. pp. 258-260.
Except as noted, images copyright 2002-2011 Steve Baskauf - Terms of use