Bioimages home (click on an image to enlarge)
view this page in its intended navigation context
Central tall grasslands (WWF ecoregion NA0805)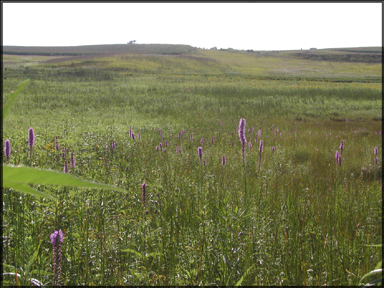 blazing star, northwest Iowa (c) 2005 Ron E. VanNimwegen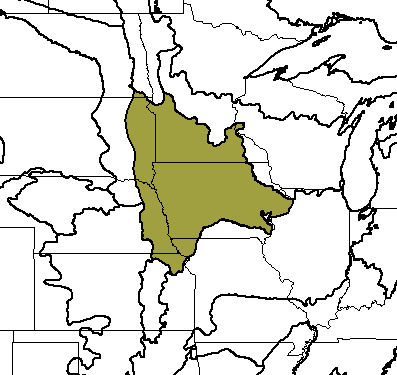 Source of bioregions data: Olson, D. M. and E. Dinerstein. The Global 200: Priority ecoregions for global conservation. (PDF file) Annals of the Missouri Botanical Garden 89:125-126.
Distinctiveness (1=highest,4=lowest): 1 (globally outstanding)
This prairie ecoregion had a rich herbaceous plant cover including as many as 250 species.*
Conservation Status (1=most endangered, 5=most intact): 1 (critical)
There are no sizeable blocks of intact habitat remaining. Nearly all of the ecoregion has been converted to tilled cropland. Most of the intact patches are smaller than 0.08 km2.*
Characteristic species*

(left of image) Sorghastrum nutans (Indian grass), (right of image) Andropogon gerardii (big bluestem) (c) 2004 Maurice J. Kaurmann hires

Panicum virgatum (switchgrass)
Some views from the ecoregion
Neal Smith National Wildlife Refuge, Iowa



left: Fire is an important natural component of this ecoregion. right: In the absence of fire, trees invade the grassland as seen in this overgrown savanna. (c) 2005 Ron E. VanNimwegen hires hires
wetlands, northern Iowa



Naturally occurring wetlands in the prairie ecoregions provide vital habitat for waterfowl. left: Fens are wetlands that are fed by the seepage of groundwater. right: Potholes are remnant glacial features. (c) 2005 Ron E. VanNimwegen hires hires
South Dakota



left: cropland and pasture in background, right: roadside (c) 2005 Carol J. Baskauf hires hires



Ecinacea angustifolia and other prairie plants along roadside, South Dakota (c) 2005 Carol J. Baskauf hires hires
* Ricketts, T.H., E. Dinerstein, D.M. Olson, C.J. Loucks, et al. (1999) Terrestrial Ecoregions of North America: A Conservation Assessment. World Wildlife Fund - United States and Canada. Island Press, Washington, D.C. pp. 337-340.
Except as noted, images copyright 2002-2004 Steve Baskauf - Terms of use