Bioimages home (click on an image to enlarge)
view this page in its intended navigation context
Central Forest/Grassland Transition Zone (WWF ecoregion NA0804)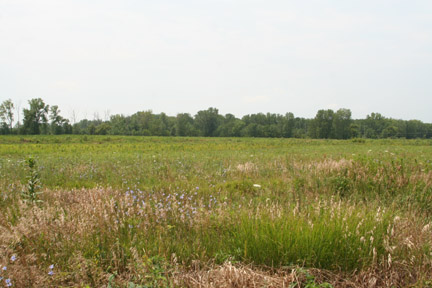 Mindewin National Tallgrass Prairie, Wilmington, Illinois (c) 2008 Steven J. Baskauf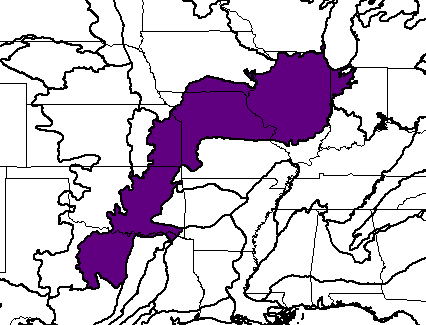 Source of bioregions data: Olson, D. M. and E. Dinerstein. The Global 200: Priority ecoregions for global conservation. (PDF file) Annals of the Missouri Botanical Garden 89:125-126.
Distinctiveness (1=highest,4=lowest): 2 (regionally outstanding)
Due to its large size and position between the Great Plains and the eastern deciduous forest, this ecoregion has one of the highest species richness in North America. It is in the top ten ecoregions for reptiles, birds, butterflies, and tree species.*
Conservation Status (1=most endangered, 5=most intact): 1 (critical)
Less than 1% of the habitat is intact in small, fragmented blocks. Nearly all is converted to corn and soybean production.*
Characteristic species*


Quercus marilandica (blackjack oak)

Quercus stellata (post oak)
Associated habitats
Freshwater dunes, eastern shore of Lake Michigan, Indiana Dunes State Park, Indiana


dunes stabilized by Maram grass. (c) 2004 Maurice J. Kaurmann hires
Ringgold Prairie, southern Iowa.



(c) 2005 Ron E. VanNimwegen
* Ricketts, T.H., E. Dinerstein, D.M. Olson, C.J. Loucks, et al. (1999) Terrestrial Ecoregions of North America: A Conservation Assessment. World Wildlife Fund - United States and Canada. Island Press, Washington, D.C. pp. 301-302.
Except as noted, images copyright 2002-2004 Steve Baskauf - Terms of use