Bioimages home (click on an image to enlarge)
view this page in its intended navigation context
Central and Southern mixed grasslands (WWF ecoregion NA0803)



Roadside, Lincoln Co., Kansas (c) 2005 Carol J. Baskauf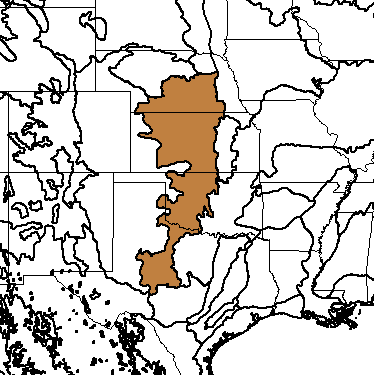 Source of bioregions data: Olson, D. M. and E. Dinerstein. The Global 200: Priority ecoregions for global conservation. (PDF file) Annals of the Missouri Botanical Garden 89:125-126.
Distinctiveness (1=highest,4=lowest): 3 (bioregionally outstanding)
This mixed-grass prairie contains the highest floral complexity of any North American grassland ecoregion. *
Conservation Status (1=most endangered, 5=most intact): 1 (critical)
Only about 5% of remaining habitat is intact. Most natural vegetation has been converted to cropland or pasture and much of the rest is grazed. Land conversion, fire suppression, and overgrazing are threats.*
Characteristic species*


(

little bluestem)

Bouteloua cartipendala (grama grass)

Agropyron smithii (western wheatgrass)
* Ricketts, T.H., E. Dinerstein, D.M. Olson, C.J. Loucks, et al. (1999) Terrestrial Ecoregions of North America: A Conservation Assessment. World Wildlife Fund - United States and Canada. Island Press, Washington, D.C. pp. 337-340.
Except as noted, images copyright 2002-2005 Steve Baskauf - Terms of use