Bioimages home (click on an image to enlarge)
view this page in its intended navigation context
California Central Valley grasslands (WWF ecoregion NA0801)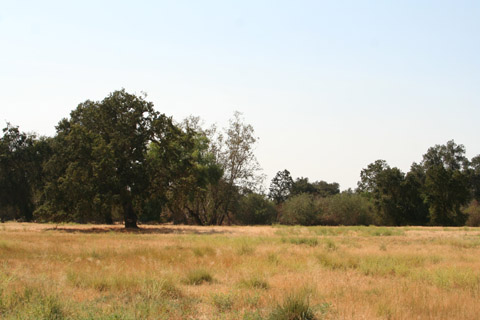 Kaweah Oaks Preserve, Tulare Co., California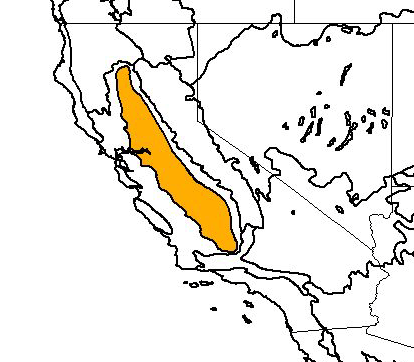 Source of bioregions data: Olson, D. M. and E. Dinerstein. The Global 200: Priority ecoregions for global conservation. (PDF file) Annals of the Missouri Botanical Garden 89:125-126.
Distinctiveness (1=highest,4=lowest): 2 (regionally outstanding)
In its original state, it was one of the most diverse and distinctive grasslands in temperate North America. It contained prairies, savannas, riparian woodlands, marshes, and vernal pools. A number of endemic species of mammals, birds, reptiles, and amphibians are present in the region.*
Conservation Status (1=most endangered, 5=most intact): 1 (critical)
Nearly all of the habitats in this ecoregion have been altered. Native grasses have been replaced by introduced species. 66% of vernal pools have been destroyed and less than 6% of marshes remain. Only about 1% of riparian woodlands are intact.*
Characteristic species*

Stipa pulchra
Stipa cerua
Elymus spp.
Poa scabrella
Aristida spp.
Koeleria cristata
Muhlenbergia rigins
Melica imperfecta
Associated habitats
Riparian habitat, Feather River, near Nicolaus, Sutter Co., California


(c) 2005 Daniel P. Duran hires
Oak Savanna, Kaweah Oaks Preserve, Tulare Co., California




This preserve is one of the last valley oak riparian forests in the San Joaquin Valley. hires hires hires
Agriculture, near Fresno, Fresno Co., California



Intensive agricultural development has destroyed 94% of the freshwater wetlands. hires hires
* Ricketts, T.H., E. Dinerstein, D.M. Olson, C.J. Loucks, et al. (1999) Terrestrial Ecoregions of North America: A Conservation Assessment. World Wildlife Fund - United States and Canada. Island Press, Washington, D.C. pp. 277-280.
Except as noted, images copyright 2002-2011 Steve Baskauf - Terms of use