Bioimages home (click on an image to enlarge)
view this page in its intended navigation context
Western Gulf coastal grasslands (WWF ecoregion NA0701)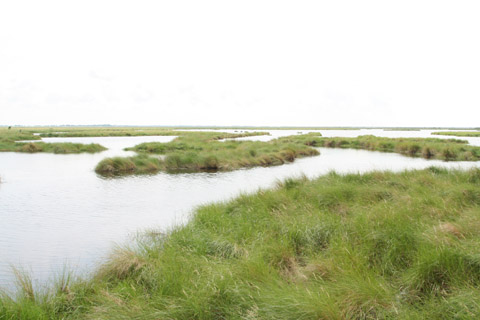 Bayou Sauvage National Wildlife Refuge, Louisiana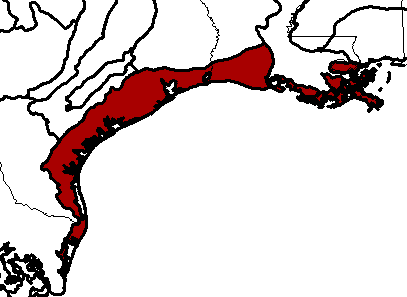 Source of bioregions data: Olson, D. M. and E. Dinerstein. The Global 200: Priority ecoregions for global conservation. (PDF file) Annals of the Missouri Botanical Garden 89:125-126.
Distinctiveness (1=highest,4=lowest): 2 (regionally outstanding)
The region provides critical habitat for resident and migrant birds.*
Conservation Status (1=most endangered, 5=most intact): 1 (critical)
Less than 1% of the original tallgrass prairie remains with destruction due to crop production, establishment of non-native plants, urbanization, and fire suppression.*
Characteristic species*


(

little bluestem)
Paspalum plicatulum (brownseed paspalum)
Andropogon scoparuium var. littoralis (seacoast bluestem)
Tripsacum dactyloides (eastern gamma grass)
Muhlenbergia capiallris var. filipes (gulf muhly)
Associated habitats
Bayou Sauvage National Wildlife Refuge, New Orleans, Louisiana






This is an area impounded by the levee system of New Orleans. (left) coastal marsh. (2nd from left) juvenile alligator. (center) live oaks (2nd from right) palmetto (right) cypress trees destroyed by Hurricane Katrina hires hires hires hires hires
Grassland, west of Lafayette, Louisiana
Agricultural area, west of Beaumont, Texas
* Ricketts, T.H., E. Dinerstein, D.M. Olson, C.J. Loucks, et al. (1999) Terrestrial Ecoregions of North America: A Conservation Assessment. World Wildlife Fund - United States and Canada. Island Press, Washington, D.C. pp. 277-280.
Except as noted, images copyright 2002-2011 Steve Baskauf - Terms of use