Bioimages home (click on an image to enlarge)
view this page in its intended navigation context
Cook Inlet taiga (WWF ecoregion NA0603)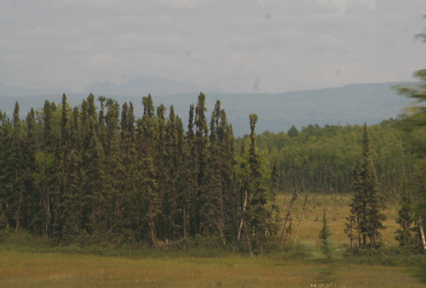 Black spruce, southern Alaska

Source of bioregions data: Olson, D. M. and E. Dinerstein. The Global 200: Priority ecoregions for global conservation. (PDF file) Annals of the Missouri Botanical Garden 89:125-126.
Distinctiveness (1=highest,4=lowest): 4 (nationally important)
All top-level predators are present and its rivers support all five species of Pacific salmon. It also harbors large populations of bald eagles and snow geese.*
Conservation Status (1=most endangered, 5=most intact): 5 (relatively intact)
Although this is the part of Alaska that is most heavily-impacted by humans, it is still about 90% intact habitat. Threats include logging and mineral extraction, and urban and residential development occurs near Anchorage and Palmer-Wasilla.*
Characteristic species*
Picea mariana (black spruce) (c) 2004 Maurice J. Kaurmann
Picea glauca (white spruce)
Picea sitchensis (Sitka spruce)
Populus tremuloides (quaking aspen)
Populus balsamifera (balsam poplar)
Populus balsamifera ssp. trichocarpa (black cottonwood)
Betula papyrifera (paper birch)
Some associated habitats
Coastal wetlands north of Anchorage, Alaska


near the Cook Inlet hires
Mixed forest, south of Talkeetna, Alaska
Interior wetland, south of Talkeetna, Alaska
* Ricketts, T.H., E. Dinerstein, D.M. Olson, C.J. Loucks, et al. (1999) Terrestrial Ecoregions of North America: A Conservation Assessment. World Wildlife Fund - United States and Canada. Island Press, Washington, D.C. pp. 353-355.
Images copyright 2010 Steve Baskauf - Terms of use