Bioimages home (click on an image to enlarge)
view this page in its intended navigation context
South Central Rockies forests (WWF ecoregion NA0528)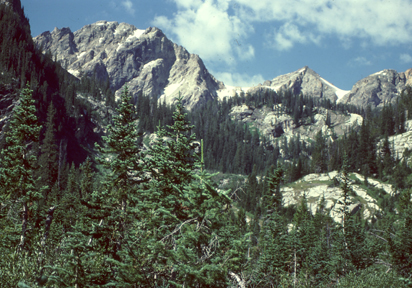 Grand Tetons National Park, Wyoming (c) 2005 James H. Bassett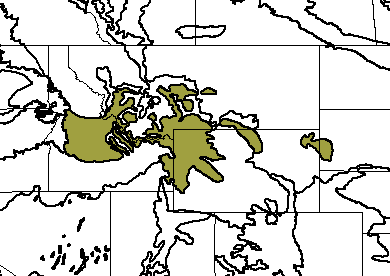 Source of bioregions data: Olson, D. M. and E. Dinerstein. The Global 200: Priority ecoregions for global conservation. (PDF file) Annals of the Missouri Botanical Garden 89:125-126.
Distinctiveness (1=highest,4=lowest): 3 (bioregionally important)
The abrupt elevation changes in this region create a variety of vegetation zones. Unique communities are associated with the geothermal features of Yellowstone National Park.*
Conservation Status (1=most endangered, 5=most intact): 4 (relatively stable)
The mountain ranges are relatively intact, although disturbed by mining, logging, and fire suppression. Development in the valleys has contributed to fragmentation of the blocks of protected areas.*
Characteristic species*


Pinus albicans (whitebark pine)

Associated habitats
View habitats of the northern Rockies at ECOS Guide to the Ecology of the Northern Rockies.
Yellowstone National Park, Wyoming


Lower Yellowstone Falls, Grand Canyon of the Yellowstone (c) 2005 James H. Bassett hires



The geothermal features create unique microbial communities adapted to high temperatures. Taq polymerase, the critical ingredient for the revolutionary molecular biological technique of PCR, was isolated from the microorganism Thermophilus aquilis living in a Yellowstone hot spring (c) 2005 James H. Bassett hires hires


Before the mid-1970s, bears were routinely fed in the park, creating "bear jams" and dangerous encounters between the bears and humans. (c) 2005 James H. Bassett hires


Although the large fires in the park during the 1990s were perceived by much of the public as destructive, they allowed for the recovery of fire-adapted species that suffered during decades of fire suppression in the park. (c) 2005 Scott and Ruth Bassett hires
Grand Tetons National Park, Wyoming




left: low elevation forest, center: treeline, right: alpine tundra (c) 2005 James H. Bassett hires hires hires
Bighorn Mountains, Bighorn National Forest, Wyoming



(c) 2005 James H. Bassett hires hires
Black Hills, Black Hills National Forest, South Dakota



right: Lakota Lake (c) 2005 Daniel P. Duran hires hires
* Ricketts, T.H., E. Dinerstein, D.M. Olson, C.J. Loucks, et al. (1999) Terrestrial Ecoregions of North America: A Conservation Assessment. World Wildlife Fund - United States and Canada. Island Press, Washington, D.C. pp. 268-271.
Except as noted, images copyright 2002-2005 Steve Baskauf - Terms of use