Bioimages home (click on an image to enlarge)
view this page in its intended navigation context
Piney Woods forests (WWF ecoregion NA0523)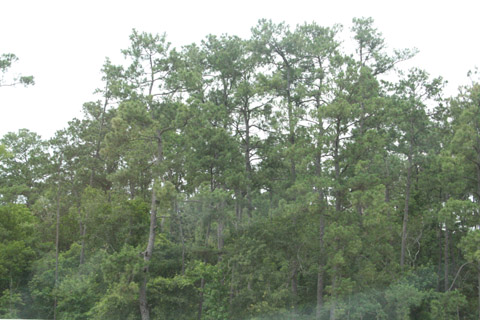 near Vidor, Texas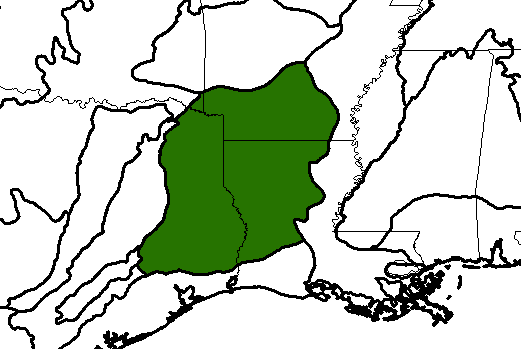 Source of bioregions data: Olson, D. M. and E. Dinerstein. The Global 200: Priority ecoregions for global conservation. (PDF file) Annals of the Missouri Botanical Garden 89:125-126.
Distinctiveness (1=highest,4=lowest): 2 (regionally outstanding)
Originally dominated by longleaf pine (Pinus palustris), that species has to a large extent been replaced by shortleaf (P. echinata) and loblolly (P. echinata) pines in plantations.*
Conservation Status (1=most endangered, 5=most intact): 2 (endangered)
Only 3 percent of the habitat is intact. Logging of the original forest and fire suppression along with urbanization has been the major cause of habitat loss.*
Characteristic species*



Sandhill pine forests:

Pinus palustris (longleaf pine) (c) 2005 Lisa Kelly

Pinus echinata (shortleaf pine)

Pinus taeda (loblolly pine)

Quercus incana (bluejack oak)
Quercus stellata (post oak)
Ilex vomitoria (post oak)

Cornus florida (flowering dogwood)



Savannalike areas:


Nyssa sylvatica

(tupelo)
Liquidambar styraciflua

(sweet gum)
Magnolia virginiana

(sweetbay magnolia)
Associated habitats
Second-growth forest near Pine Mills, Wood County, Texas





hires hires hires hires (c) 2011 Daphne R. Hatcher
Roadside forest, near Vidor, Texas
* Ricketts, T.H., E. Dinerstein, D.M. Olson, C.J. Loucks, et al. (1999) Terrestrial Ecoregions of North America: A Conservation Assessment. World Wildlife Fund - United States and Canada. Island Press, Washington, D.C. pp. 277-280.
Except as noted, images copyright 2002-2011 Steve Baskauf - Terms of use