Bioimages home (click on an image to enlarge)
view this page in its intended navigation context
Okanogan dry forests (WWF ecoregion NA0522)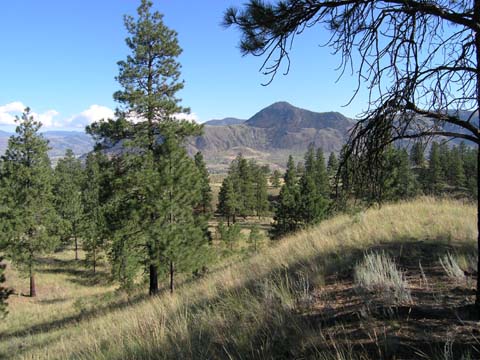 dry Douglas-fir/ponderosa pine forest, South Thompson River Valley, British Columbia (c) 2012 Lyn Baldwin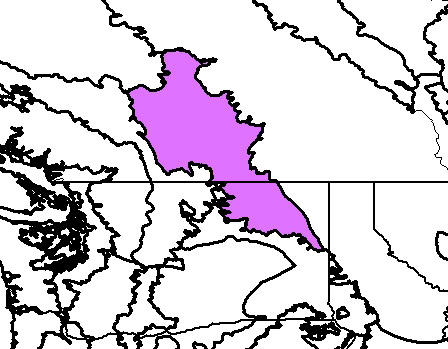 Source of bioregions data: Olson, D. M. and E. Dinerstein. The Global 200: Priority ecoregions for global conservation. (PDF file) Annals of the Missouri Botanical Garden 89:125-126.
Distinctiveness (1=highest,4=lowest): 4 (nationally important)
This region contains a diverse array of vegetation and includes species of large mammals that are absent in more densely populated areas.*
Conservation Status (1=most endangered, 5=most intact): 2 (endangered)
Approximately 20% of habitat is intact. Valleys have mostly been converted to agriculture or urban development. Upland forest have been logged in the past or are scheduled for logging in the future. Overgrazing and mining are threats.*
Characteristic species*
Pinus contorta (lodgepole pine)
Populus tremuloides (quaking aspen)
Picea glauca (white spruce)
Pseudotsuga menziesii (Douglas fir)

Calamogrosis rubescens (pine grass)
Picea engelmannii (Englemann spruce)

Abies lasiocarpa (subalpine fir)
Pinus ponderosa (ponderosa pine)

Agropyron spp.
Poa predensis (blue grass)
Koelaria spp. (June grass)

Artemisia tridentata (big sagebrush)
Associated habitats
grasslands near treeline, South Thompson River Valley, British Columbia



(left) Grasslands and a lake. (right) Aspens near treeline .(c) 2012 Lyn Baldwin hires hires
* Ricketts, T.H., E. Dinerstein, D.M. Olson, C.J. Loucks, et al. (1999) Terrestrial Ecoregions of North America: A Conservation Assessment. World Wildlife Fund - United States and Canada. Island Press, Washington, D.C. pp. 258-260.
Except as noted, images copyright 2002-2011 Steve Baskauf - Terms of use