Bioimages home (click on an image to enlarge)
view this page in its intended navigation context
North Central Rockies Forests (WWF ecoregion NA0518)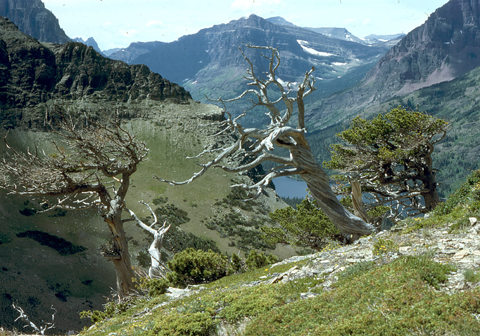 Pinus albicaulis (white bark pine) at treeline, Two Medicine Lake, Glacier National Park, Montana, (c) 2001 Maurice J. Kaurmann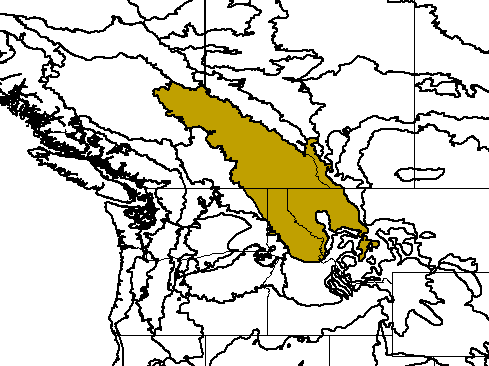 Source of bioregions data: Olson, D. M. and E. Dinerstein. The Global 200: Priority ecoregions for global conservation. (PDF file) Annals of the Missouri Botanical Garden 89:125-126.
Distinctiveness (1=highest,4=lowest): 3 (bioregionally outstanding)
The ecoregion contains a variety of vegetation communities. Large carnivores, including Canus lupus (wolf) and Ursus arctos (grizzly bear) are present. *
Conservation Status (1=most endangered, 5=most intact): 3 (vulnerable)
There are a substantial number of protected areas, such as national parks and wilderness areas. However, Fragmentation by transportation corridors may reduce the viability of the ecoregions large carnovires. Mining and logging are also threats.*
Characteristic species*
Associated habitats
High elevation forests, Glacier National Park, Montana



forest vegetation (c) 2005 James H. Bassett hires hires




left, center: treeline, Sperry Glacier Trail, right: Sperry Glacier (c) 2005 James H. Bassett hires hires hires
temperate rain forest, Mt. Revelstoke National Park, British Columbia



western red cedar (c) 2005 Scott and Ruth Bassett hires
treeline, St. Mary's Peak, Montana





(c) 2005 Daniel P. Duran hires hires hires
* Ricketts, T.H., E. Dinerstein, D.M. Olson, C.J. Loucks, et al. (1999) Terrestrial Ecoregions of North America: A Conservation Assessment. World Wildlife Fund - United States and Canada. Island Press, Washington, D.C. pp. 213-216.
Except as noted, images copyright 2002-2005 Steve Baskauf - Terms of use