Bioimages home (click on an image to enlarge)
view this page in its intended navigation context
Klamath-Siskiyou forests (WWF ecoregion NA0516)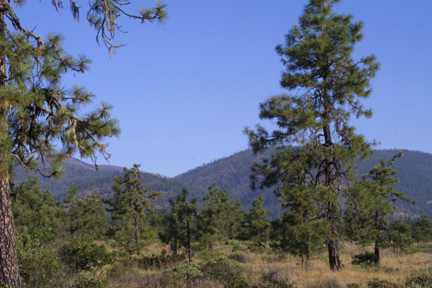 Pine savanna east of the coastal range, Josephine Co., Oregon (c) 2005 Steven J. Baskauf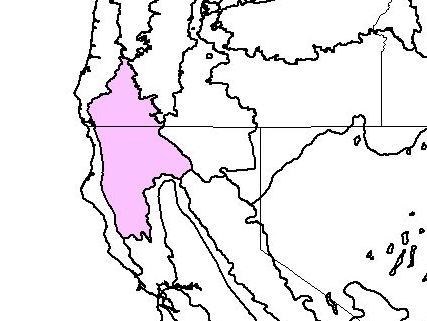 Source of bioregions data: Olson, D. M. and E. Dinerstein. The Global 200: Priority ecoregions for global conservation. (PDF file) Annals of the Missouri Botanical Garden 89:125-126.
Distinctiveness (1=highest,4=lowest): 1 (globally outstanding)
This region is a global center of biodiversity. It is one of the four richest temperate coniferous forests in the world due to its complex biogeographic patterns and unusual community assemblages. Its long-term climatic stability and the conjunction of elements from surrounding ecoregions has produced a large number of endemic plant and animal species.*
Conservation Status (1=most endangered, 5=most intact): 2 (endangered)
Only about 25 percent of the ecoregion is intact. Because the importance of this region is not well appreciated, there are few protected areas, and logging, mining, and grazing threaten the biodiversity of the region.
Characteristic species*

Pinus lambertiana (sugar pine)
Chamaecyparis lawsoniana (Port Orford cedar)
Quercus chrysolepis (canyon live oak)
Quercus kelloggii (California black oak)
Abies concolor (white fir)
Abies magnifica (California red fir)
Associated habitats



moist forest on west side of Siskiyou Mountains, Smith River Ntl. Recreation Area, California (c) 2005 Steven J. Baskauf hires hires




savanna east of the coastal ranges, Josephine Co., Oregon (c) 2005 Steven J. Baskauf hires hires hires


riparian area, Humbolt Co., California (c) 2005 Natasha Sherman hires
* Ricketts, T.H., E. Dinerstein, D.M. Olson, C.J. Loucks, et al. (1999) Terrestrial Ecoregions of North America: A Conservation Assessment. World Wildlife Fund - United States and Canada. Island Press, Washington, D.C. pp. 238-241.
Except as noted, images copyright 2002-2005 Steve Baskauf - Terms of use