Bioimages home (click on an image to enlarge)
view this page in its intended navigation context
Blue Mountains forests (WWF ecoregion NA0505)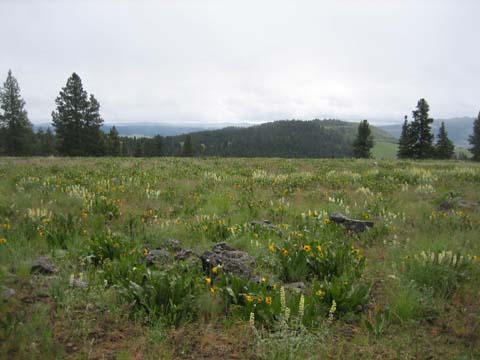 Meadow, from Pumpkin Ridge looking south toward the Grande Ronde Valley, Oregon (c) 2012 Karen Antell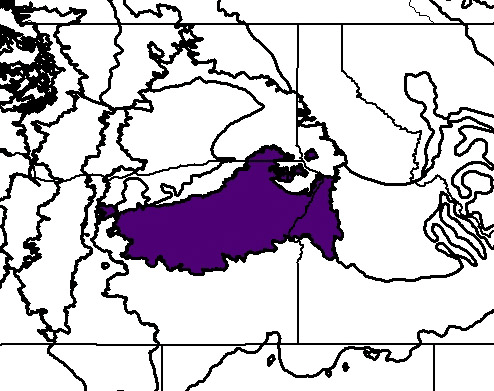 Source of bioregions data: Olson, D. M. and E. Dinerstein. The Global 200: Priority ecoregions for global conservation. (PDF file) Annals of the Missouri Botanical Garden 89:125-126.
Distinctiveness (1=highest,4=lowest): 3 (bioregionally outstanding)
Riparian areas are important habitat for fish and for wildlife using them as corridors. Old-growth forests serve as refugia for many bird species.*
Conservation Status (1=most endangered, 5=most intact): 3 (vulnerable)
Approximately 10% of habitat remains intact. Fire suppression and logging has degraded ponderosa pine forests. Overgrazing is a serious threat to non-forested areas.*
Characteristic species*
Artemisia tridentata (big sagebrush)
Juniperus occidentalis
Pinus ponderosa (ponderosa pine)
Pseudotsuga menziesii (Douglas fir)
Larix occidentalis (western larch)

Picea spp.
Abies spp.

Pinus contorta (lodgepole pine)

Associated habitats
Mid- to low-elevation mixed conifer forest grading into Palouse Prairie grassland at lower elevations





(left) View from Glass Hill looking north toward La Grande and Mt. Emily, Oregon, (center left and center right) from Pumpkin Ridge looking south toward the Grande Ronde Valley, Oregon, (right) Camas meadow, lower slopes of Mt. Emily north of La Grande, Oregon (c) 2012 Karen Antell hires hires hires hires
* Ricketts, T.H., E. Dinerstein, D.M. Olson, C.J. Loucks, et al. (1999) Terrestrial Ecoregions of North America: A Conservation Assessment. World Wildlife Fund - United States and Canada. Island Press, Washington, D.C. pp. 258-260.
Except as noted, images copyright 2002-2011 Steve Baskauf - Terms of use