Bioimages home (click on an image to enlarge)
view this page in its intended navigation context
Arizona Montaine Forests (WWF ecoregion NA0503)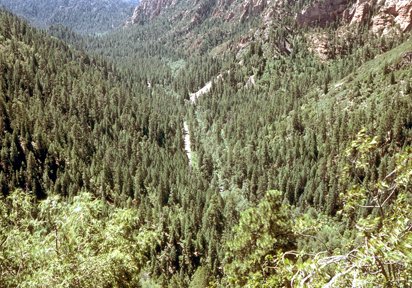 Oak Creek Canyon, near Sedona, Arizona (c) 2004 Maurice J. Kaurmann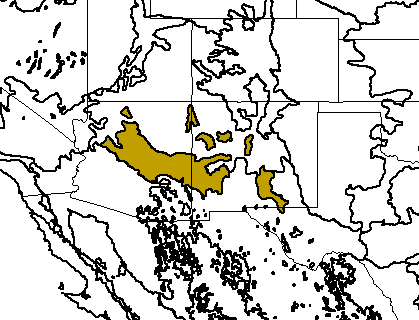 Source of bioregions data: Olson, D. M. and E. Dinerstein. The Global 200: Priority ecoregions for global conservation. (PDF file) Annals of the Missouri Botanical Garden 89:125-126.
Distinctiveness (1=highest,4=lowest): 2 (regionally outstanding)
This region contains a relatively high number of species (2817) and endemic species (132). Many Mexican wildlife species reach their northern limit here.*
Conservation Status (1=most endangered, 5=most intact): 4 (relatively stable)
Approximately 25% of habitat is intact. Logging, overgrazing, and degradation of streams are threats.*
Characteristic species*
Pinus leiophylla (Chihuahua pine)

Pinus engelmannii (Apache pine)

Pinus ponderosa var. arizonica (ponderosa pine)

Abies lasiocarpa var. arizonica (white fir, corkbark variety)

Juniperus communis (dwarf juniper)

Pinus strobiformis (southwestern white pine)

Populus tremuloides (quaking aspen)

Acer glabrum (Rocky Mountain maple)

Salix bebbiana (Bebb willow)

Salix scouleriana (scouler willow)

Sambucus glauca (blueberry elder)

Alnus tenuifolius (thin-leafed alder)

Prunus emarginata (bitter cherry)

Pinus flexis (limber pine)

Pinus aristata (bristlecone pine)

Abies concolor (white fir)
Associated habitats
Oak Creek Canyon, near Sedona, Arizona


chaparral (c) 2004 Maurice J. Kaurmann hires


pinyon pine - juniper (c) 2001 Maurice J. Kaurmann hires
Kaibab National Forest, near Flagstaff, Arizona



Pinus ponderosa (ponderosa pine) left: before fire, right: after fire hires hires



krumholtz at treeline, Humphreys Peak (c) 2004 Maurice J. Kaurmann hires hires
* Ricketts, T.H., E. Dinerstein, D.M. Olson, C.J. Loucks, et al. (1999) Terrestrial Ecoregions of North America: A Conservation Assessment. World Wildlife Fund - United States and Canada. Island Press, Washington, D.C. pp. 256-258.
Except as noted, images copyright 2002-2005 Steve Baskauf - Terms of use