Bioimages home (click on an image to enlarge)
view this page in its intended navigation context
East Central Texas forests (WWF ecoregion NA0405)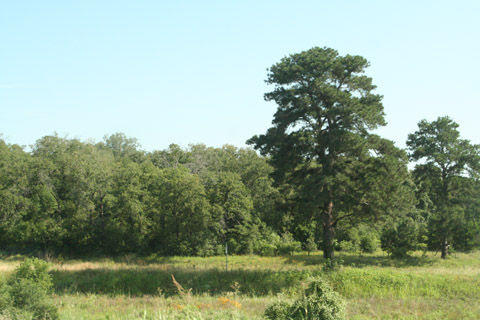 near Harwood, Texas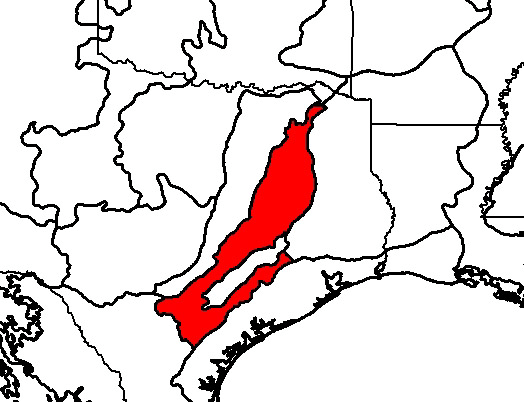 Source of bioregions data: Olson, D. M. and E. Dinerstein. The Global 200: Priority ecoregions for global conservation. (PDF file) Annals of the Missouri Botanical Garden 89:125-126.
Distinctiveness (1=highest,4=lowest): 3 (bioregionally outstanding)
This ecoregion is rich in butterflies and reptiles.*
Conservation Status (1=most endangered, 5=most intact): 1 (critical)
Approximately 25% of the natural vegetation remains, but it is highly fragmented and has been heavily altered. Conversion to agriculture and fire suppression are significant threats.*
Characteristic species*


Quercus coccinea (scarlet oak)
Quercus stellata (post oak)
Quercus marilandica (blackjack oak)
Carya glabra (pignut hickory)
Carya tomentosa (mockernut hickory)
Ulmus americana

(American elm)


Carya illinoensis (pecan)
Some views from the ecoregion
Disturbed roadside forest, eastern Texas






(left) west of Columbus, Texas, (2nd from left) near Woelder, Texas, (center and 2nd from right) near Harwood, Texas, (right) near Kingsbury, Texas hires hires hires hires hires
* Ricketts, T.H., E. Dinerstein, D.M. Olson, C.J. Loucks, et al. (1999) Terrestrial Ecoregions of North America: A Conservation Assessment. World Wildlife Fund - United States and Canada. Island Press, Washington, D.C. pp. 258-260.
Except as noted, images copyright 2002-2011 Steve Baskauf - Terms of use