Bioimages home (click on an image to enlarge)
view this page in its intended navigation context
Sierra Madre Oriental pine-oak forests (WWF ecoregion NA0303)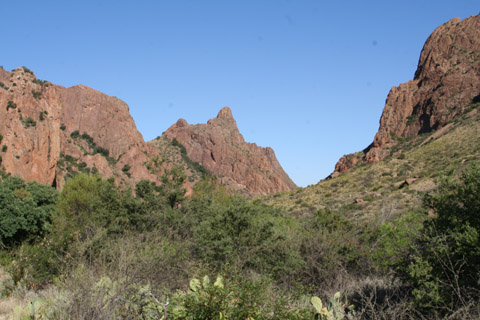 Oak and pine forest in the Chisos Mountains, Big Bend National Park, Texas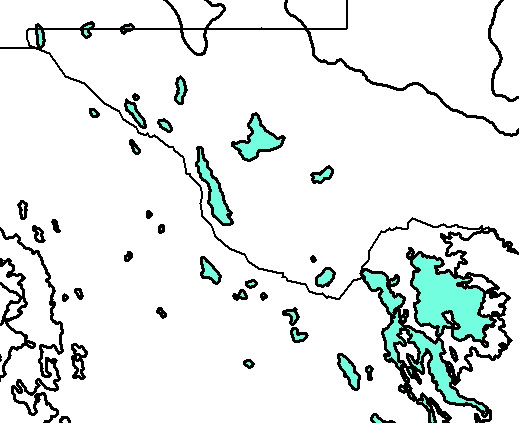 Source of bioregions data: Olson, D. M. and E. Dinerstein. The Global 200: Priority ecoregions for global conservation. (PDF file) Annals of the Missouri Botanical Garden 89:125-126.
Distinctiveness (1=highest,4=lowest): 1 (globally outstanding)
The high altitude and fragmentation of this ecoregion produces islands of temperate climate within the surrounding desert or tropical habitats. This produces a high degree of endemism. The ecoregion contains the highest diversity of Agave species.
Conservation Status (1=most endangered, 5=most intact): 1 (critical)
Nearly all native pine-oak forests have been logged and over 60% have been converted to agricultural use.*
Characteristic species
Pinus leiophylla var. chihuahuana (Chihuahuan pine)

Pinus cembroides (Mexican pinyon)

Pinus arizonica var. arizonica (Arizona pine)
Quercus hypoleucoides (silverleaf oak)


Quercus arizonica (Arizona white oak)

Quercus emoryi (Emory oak)

Quercus rugosa (netleaf oak)


Juniperus deppeana (alligator juniper)

Arctostaphylos pungens (pointleaf manzanita) (c) 2004 Maurice J. Kaurmann
Some views from the ecoregion
Big Bend National Park, western Texas



(Left) View of Chisos Mountains from Chihuahuan desert. (right) View of Chihuahuan desert from the Chisos Mountains hires hires
Views of oak and pine forests in the Chisos Mountains hires hires hires hires hires



(Left) Agave flowers. (center and right) Ephemeral pools hires hires hires
* Source: https://www.worldwildlife.org/ecoregions/na0303
Except as noted, images copyright 2002-2010 Steve Baskauf - Terms of use