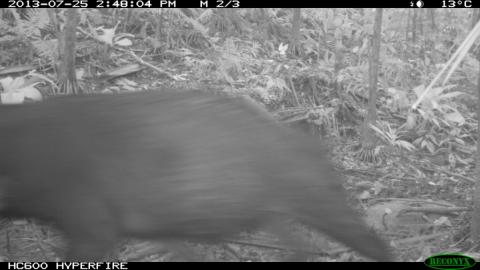 Tayassu pecari
(Link, 1795)
sec. Mayer Wetzel 1987
common name: white-lipped peccary
family: Tayassuidae
Refer to this permanent identifier for the image:
http://bioimages.vanderbilt.edu/jorgem/rec13_1556

Use this URL as a stable link to this image page:
http://bioimages.vanderbilt.edu/jorgem/rec13_1556.htm
Location information for the occurrence documented by this image:
Foles, Ilha do Cardoso, Cananéia, São Paulo, BR


-25.160643

° latitude,

-47.933229

° longitude
Coordinate uncertainty: about 10 m
Location determined by an independent GPS measurement.
Remarks about this occurrence:
dwc:MachineObservation
This image documents an organism that has the permanent identifier:
http://bioimages.vanderbilt.edu/org-jorgem/rec13_0005
Intellectual property information about this image:
Image creator:

Maria L Jorge

; created on
2013-07-25T14:48:04-03:00
To cite this image, use the following credit line:
"Maria L Jorge https://my.vanderbilt.edu/malujorge/"
If possible, link to the stable URL for this page.
Click this link for contact information about using this image
Mayer Wetzel 1987 =
Mayer, J. J. and R. M. Wetzel, 1987. Tayassu pecari. Mammalian Species 293:1–7. American Society of Mammalogists .