Bioimages home (click on an image to enlarge)
view this page in its intended navigation context
Hawaii tropical moist forests (WWF ecoregion OC0106)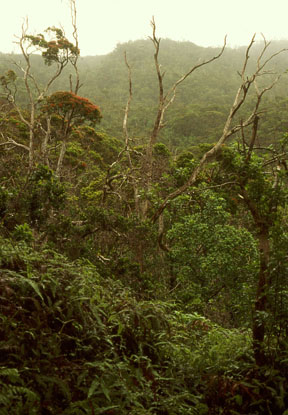 Alakai Swamp, Kauai, Hawaii (c) 2005 Carol and Steve Baskauf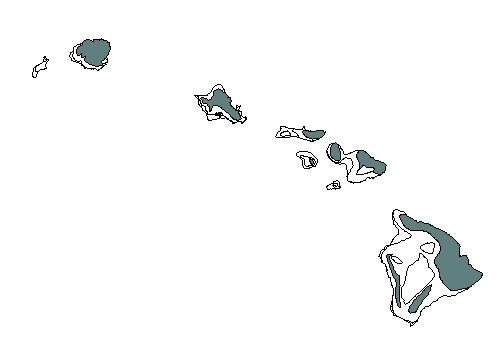 Source of bioregions data: Olson, D. M. and E. Dinerstein. The Global 200: Priority ecoregions for global conservation. (PDF file) Annals of the Missouri Botanical Garden 89:125-126.
Distinctiveness (1=highest,4=lowest): 1 (globally outstanding)
The ohia and koa forests of this ecoregion support endemic tree species and many of the surviving endemic bird and insect species.*
Conservation Status (1=most endangered, 5=most intact): 2 (endangered)
Lowland moist forests have been destroyed. Montane forest is threatened by feral pigs, introduced weed species, and development.*
Characteristic species*
Metrosideros spp.

(

O'hia lehua)


(koa)
Some views from the ecoregion
Alakai Swamp, Kauai, Hawaii
The Alakai Swamp is located below Mount Waialeale, the wettest spot on earth. Because of its inaccessibility the Alakai Swamp has escaped development. Its high elevation has prevented mosquitos from introducing avian malaria into the bird populations there. For these reasons, the Alakai Swamp is the home to several of Hawaii's rarest endemic birds.





overview of Alakai swamp, vegetation, moss and ferns on fallen log, fern frond (c) 2005 Carol and Steve Baskauf hires hires hires hires
'Ola'a rain forest, Hawaii Volcanoes National Park, island of Hawaii, Hawaii
The 'Ola'a forest is a fairly undisturbed rainforest wilderness area surrounded by development. By removing many of the feral pigs from the forest, it has recovered somewhat from damage that they have induced.


(c) 2005 Carol and Steve Baskauf hires
Akaka Falls State Park, island of Hawaii, Hawaii
The abundant rainfall on the windward side of the island is apparent from the lush vegetation of the park. However, like many of Hawaii's moist forests, many of the species are not native to Hawaii. In many locations, the moist forests were deforested and grew back dominated by non-native species.



(c) 2005 Carol and Steve Baskauf hires hires
* Ricketts, T.H., E. Dinerstein, D.M. Olson, C.J. Loucks, et al. (1999) Terrestrial Ecoregions of North America: A Conservation Assessment. World Wildlife Fund - United States and Canada. Island Press, Washington, D.C. pp. 337-340.