Bioimages home (click on an image to enlarge)
view this page in its intended navigation context
South Florida Rocklands (WWF ecoregion NT0164)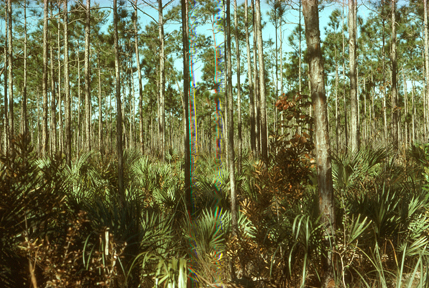 Pine woods and Serenoa repens (saw palmetto), Pinelands Trail, Everglades National Park, Florida (c) 2004 Maurice J. Kaurmann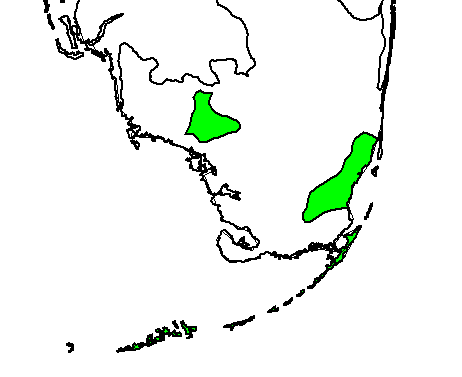 Source of ecoregions data: Olson, D. M. and E. Dinerstein. The Global 200: Priority ecoregions for global conservation. (PDF file) Annals of the Missouri Botanical Garden 89:125-126.
Distinctiveness (1=highest,4=lowest): 2 (regionally outstanding)
This ecoregion contains the only true tropical forest on the U.S. mainland. Many plant species are restricted to this area and 37 endemic species of herbs are endemic to the pine rocklands.*
Conservation Status (1=most endangered, 5=most intact): 1 (critical)
Only 2% of the original habitat remains. Development in the Miami area and on the Keys has destroyed most of this area, making it one of the most endangered ecoregions. In addition to development, fire suppression and introduction of exotic species are serious threats.*
Characteristic species*
Pinus elliottii (slash pine)

Rhizophora mangle (American mangrove) (c) 2004 Maurice J. Kaurmann

Serenoa repens (saw palmetto)
Associated habitats
slash pine woodland, Everglades Ntl. Park, Florida




(left) If unburned, the pine woodlands are invaded by hardwoods. (center) Low intensity fires destroy the hardwoods but not the pines. (right) After a burn, palmettos quickly recover. (c) 2004 Maurice J. Kaurmann hires hires hires
mangrove (Rhizophora mangle) island, Florida Bay, near Bahia Honda State Park, Florida


(c) 2004 Maurice J. Kaurmann hires
* Ricketts, T.H., E. Dinerstein, D.M. Olson, C.J. Loucks, et al. (1999) Terrestrial Ecoregions of North America: A Conservation Assessment. World Wildlife Fund - United States and Canada. Island Press, Washington, D.C. pp. 150-152.
Except as noted, images copyright 2002-2004 Steve Baskauf - Terms of use