Bioimages home (click on an image to enlarge)
view this page in its intended navigation context
Middle Atlantic Coastal Forests (WWF ecoregion NA0517)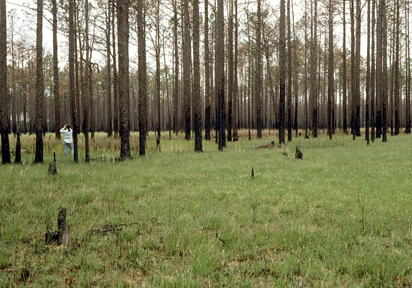 Longleaf pine savanna after a fire, Green Swamp, South Carolina (c) 2004 Lisa Kelly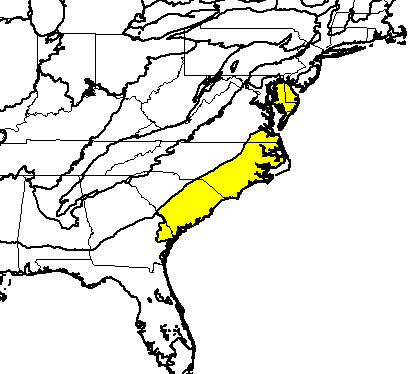 Source of bioregions data: Olson, D. M. and E. Dinerstein. The Global 200: Priority ecoregions for global conservation. (PDF file) Annals of the Missouri Botanical Garden 89:125-126.
Distinctiveness (1=highest,4=lowest): 2 (regionally outstanding)
The mosaic of plant communities is a result of dramatic gradients in soil structure and hydrology. Fire, hurricanes, and floods create dynamic communities by disturbance. This ecoregion is in the top ten of the U.S. in reptiles, birds, and tree species.*
Conservation Status (1=most endangered, 5=most intact): 2 (endangered)
Approximately 12% of the habitat in this region is considered intact. Agricultural conversion, logging, fire supression, urbanization, and draining of wetlands are major threats. Longleaf pine communities, cypress forests, and Atlantic white cedar swamps have been largely destroyed.*
Characteristic species*
Chamaecyparis thyoides (Atlantic white cedar)

Taxodium distichum (bald cypress)

Pinus serotina (pond pine)

Ilex glabra (gallberry)

Dionaea muscipula (Venus flytrap)

Sarracenia flava (yellow pitcherplant)

Sarracenia purpurea (purple pitcherplant)

Drosera spp. (sundews)
For additional images of plants from this ecoregion, see the Delaware Wildflowers website.
Associated habitats
Longleaf pine savanna, Green Swamp, South Carolina




The fire-adapted longleaf pine savanna is now rare in this ecoregion due to fire suppression and conversion. (left) Before a burn. (center) After a burn. (right) Young Pinus palustris (longleaf pine) trees are adapted to survive fires. (c) 2004 Lisa Kelly hires hires hires
Wetlands, Green Swamp, South Carolina


Tall pocosin. (c) 2005 Lisa Kelly hires
Cypress swamp, Ft. Bragg, North Carolina


Taxodium distichum. (c) 2005 Lisa Kelly hires
Longleaf pine/turkey oak forest, Ft. Bragg, North Carolina


Quercus laevis understory below Pinus palustris (left). Young longleaf pine seedlings begin in the "grass stage" with their growing bud underground and protected from fire (right). (c) 2005 Lisa Kelly hires hires
Turkey oak sandhills, Singletary Lakes State Park, Bladen Co., North Carolina


(c) 2005 Daniel P. Duran hires
Coastal maritime forest and dunes, Assateague Island, Maryland


(c) 2005 Daniel P. Duran hires
* Ricketts, T.H., E. Dinerstein, D.M. Olson, C.J. Loucks, et al. (1999) Terrestrial Ecoregions of North America: A Conservation Assessment. World Wildlife Fund - United States and Canada. Island Press, Washington, D.C. pp. 263-267.
Except as noted, images copyright 2002-2005 Steve Baskauf - Terms of use