Bioimages home (click on an image to enlarge)
view this page in its intended navigation context
Florida Sand Pine Scrub (WWF ecoregion NA0513)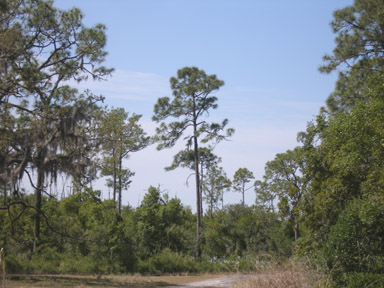 Slash pine (Pinus elliottii), Archbold Biological Station, central Florida (c) 2008 Kari Segraves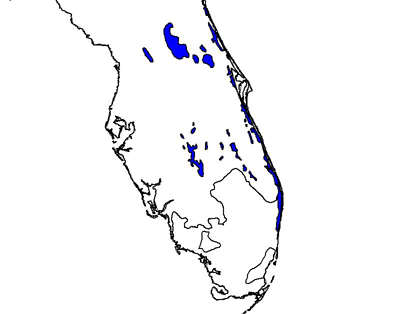 Source of bioregions data: Olson, D. M. and E. Dinerstein. The Global 200: Priority ecoregions for global conservation. (PDF file) Annals of the Missouri Botanical Garden 89:125-126.
Distinctiveness (1=highest,4=lowest): 1 (globally outstanding)
This is Florida's most distinctive habitat with about half of the species endemic to the ecoregion. Species must be able to survive in the dry, sandy environment. *
Conservation Status (1=most endangered, 5=most intact): 1 (critical)
The ecoregion itself is very small and only about 10 percent remains intact. Urbanization and the development of citrus groves is responsible for much of the loss and fire suppression results in the conversion to other habitat types.*
Characteristic species*
Pinus clausa (scrub pine) (c) 2008 Kari Segraves
Quercus geminata

Quercus myrtifolia (myrtle oak) (c) 2008 Kari Segraves

Quercus inopina

Quercus chapmanii

Ceratiola ericoides (Florida rosemary)

Aphelocoma coerulescens (Florida scrub jay) (c) 2008 Kari Segraves

Gopherus polyphemus (Gopher Tortoise) (c) 2008 Kari Segraves
Associated habitats
Fire-adapted longleaf pine-palmetto forest, Archbold Biological Station, central Florida


Pinus palustris (longleaf pine) and Serenoa repens (saw palmetto) (c) 2008 Kari Segraves hires
* Ricketts, T.H., E. Dinerstein, D.M. Olson, C.J. Loucks, et al. (1999) Terrestrial Ecoregions of North America: A Conservation Assessment. World Wildlife Fund - United States and Canada. Island Press, Washington, D.C. pp. 268-271.