Bioimages home (click on an image to enlarge)
view this page in its intended navigation context
Eastern Cascades forests (WWF ecoregion NA0512)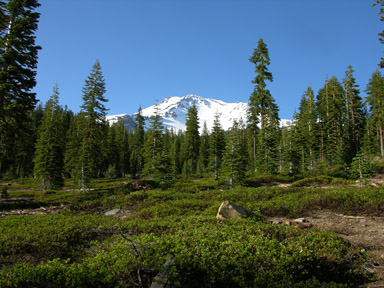 Mt. Shasta, northern California (c) 2005 Daniel P. Duran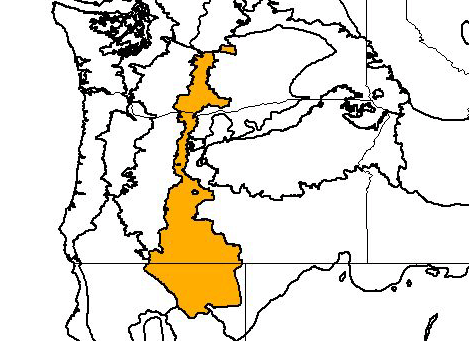 Source of bioregions data: Olson, D. M. and E. Dinerstein. The Global 200: Priority ecoregions for global conservation. (PDF file) Annals of the Missouri Botanical Garden 89:125-126.
Distinctiveness (1=highest,4=lowest): 3 (bioregionally outstanding)
This region contains a high number of threatened or endangered species. Elements of adjacent regions combine to make a complex mosaic.*
Conservation Status (1=most endangered, 5=most intact): 2 (endangered)
About 25% of old-growth is protected. Logging and degradation of shrub-steppe habitat by overgrazing and invasive species are threats.*
Characteristic species*

Juniperus occidentalis
Abies concolor
Abies magnifica shastensis
Associated habitats


High elevation conifer forest, Brooks Memorial State Park, Washington (c) 2005 Steven J. Baskauf hires


Lower elevation forest, south of Yakima, Washington. At lower elevations, the continuous coniferous forest is broken by patches of shrubland. (c) 2005 Steven J. Baskauf hires



Effect of aspect, Columbia River valley, Washington and Oregon. As the climate becomes drier to the east, the aspect of the slopes determine the composition of the woody vegetation. Left: The more moist north-facing slope is covered primarily with conifers. Right: The drier south-facing slopes are covered mostly with shrubs and grasses except in depressions. (c) 2005 Steven J. Baskauf hires hires





Eastern edge of the ecoregion, Columbia River valley, Oregon. Far left and left center: At the eastern edge of the ecoregion, conifers become more sparse even on the north-facing slopes. Right center and far right: Eventually the conifers disappear entirely and are replaced with shrub steppe. (c) 2005 Steven J. Baskauf hires hires hires hires
* Ricketts, T.H., E. Dinerstein, D.M. Olson, C.J. Loucks, et al. (1999) Terrestrial Ecoregions of North America: A Conservation Assessment. World Wildlife Fund - United States and Canada. Island Press, Washington, D.C. pp. 231-234.
Except as noted, images copyright 2002-2005 Steve Baskauf - Terms of use