Bioimages home (click on an image to enlarge)
view this page in its intended navigation context
Central and Southern Cascades forests (WWF ecoregion NA0508)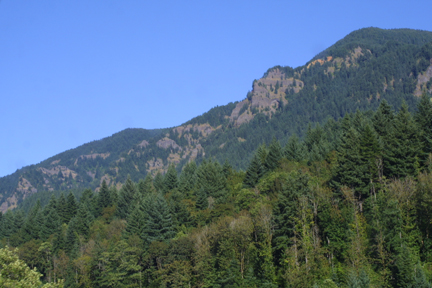 Mountain slope, Columbia River valley, Oregon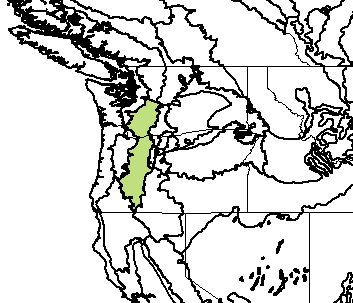 Source of bioregions data: Olson, D. M. and E. Dinerstein. The Global 200: Priority ecoregions for global conservation. (PDF file) Annals of the Missouri Botanical Garden 89:125-126.
Distinctiveness (1=highest,4=lowest): 3 (bioregionally important)
The ecoregion has in intermediate level of biodiversity for a temperate coniferous forest, with a high level of endemic amphibians.*
Conservation Status (1=most endangered, 5=most intact): 3 (vulnerable)
Extensive logging, road building and hydroelectric development have fragmented the habitat. Fire suppression and the development of tree plantations have further decreased the quality of habitats in the region.*
Characteristic species*


Abies amabilis (Pacific silver fir)

Associated habitats


treeline, on the slope of Mt. Ranier, Washington with Mt. Adams in the distancea (c) 2005 James H. Bassett hires





river bluffs, Columbia River valley, Oregon (right: Multnomah Falls) (c) 2005 Steven J. Baskauf hires hires hires hires



forest opening, Hoodoo area, Oregon (c) 2005 Daniel P. Duran hires hires
* Ricketts, T.H., E. Dinerstein, D.M. Olson, C.J. Loucks, et al. (1999) Terrestrial Ecoregions of North America: A Conservation Assessment. World Wildlife Fund - United States and Canada. Island Press, Washington, D.C. pp. 222-224.
Except as noted, images copyright 2002-2005 Steve Baskauf - Terms of use