Bioimages home (click on an image to enlarge)
view this page in its intended navigation context
Atlantic coastal pine barrens (WWF ecoregion NA0504)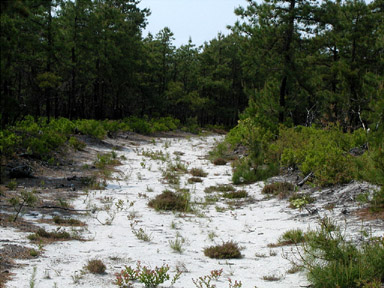 Pine barrens, Stafford Forge WMA, Ocean Co., NJ (c) 2005 Daniel P. Duran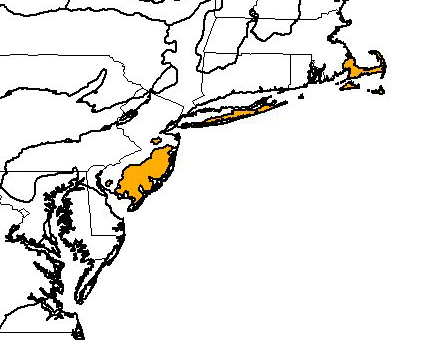 Source of bioregions data: Olson, D. M. and E. Dinerstein. The Global 200: Priority ecoregions for global conservation. (PDF file) Annals of the Missouri Botanical Garden 89:125-126.
Distinctiveness (1=highest,4=lowest): 4 (nationally important)
Because of the dry, sandy soil, pine barrens do not have particularly rich floras, although the barrens support some rare and endemic plant and animal species.*
Conservation Status (1=most endangered, 5=most intact): 4 (relatively stable)
About 10% is intact habitat. Urbanization in New Jersey and suburban sprawl has destroyed habitat and the close proximity of homes has resulted in fire suppression, which has altered the species composition of habitats.*
Characteristic species*
Pinus rigida (pitch pine)

Quercus marilandica (blackjack oak)

Quercus stellata (post oak)
Quercus ilicifolia
* Ricketts, T.H., E. Dinerstein, D.M. Olson, C.J. Loucks, et al. (1999) Terrestrial Ecoregions of North America: A Conservation Assessment. World Wildlife Fund - United States and Canada. Island Press, Washington, D.C. pp. 262-263.
Except as noted, images copyright 2002-2005 Steve Baskauf - Terms of use