Bioimages home (click on an image to enlarge)
view this page in its intended navigation context
New England/Acadian Forests (WWF ecoregion NA0410)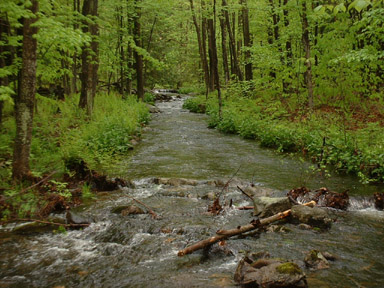 Stream near Ashburnham, Massachusetts (c) 2008 Paul Somers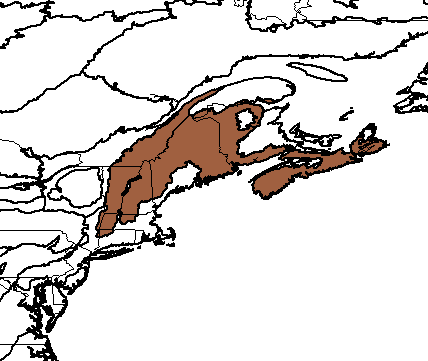 Source of bioregions data: Olson, D. M. and E. Dinerstein. The Global 200: Priority ecoregions for global conservation. (PDF file) Annals of the Missouri Botanical Garden 89:125-126.
Distinctiveness (1=highest,4=lowest): 3 (bioregionally outstanding)
This bioregion is a moderately rich temperate mixed forest. It is relatively rich in bird species due to the mixture of hardwoods and conifers. Fourteen species of conifers are present. *
Conservation Status (1=most endangered, 5=most intact): 2 (endangered)
Although the majority of the ecoregion is now forested, only about 5% of the habitat remains intact. Logging is the main cause of habitat loss.*
Characteristic species*

Picea rubens (red spruce)

Pinus resinosa (red pine)

Acer saccharum

(sugar maple)

Fagus grandifolia

(American beech)

Betula alleghaniensis (yellow birch)

Tsuga canadensis (eastern hemlock)

Abies balsamea (balsam fir)

Picea glauca (white spruce)

Pinus strobus

(white pine)
Associated habitats



(Left) Mixture of hardwoods and conifers on a slope in the White Mountains, (right) view, Crawford Notch State Park, New Hampshire (c) 2004 Maurice J. Kaurmann hires hires
Fall foliage, Mendon, Vermont


(c) 2010 Daniel C. Redondo hires hires hires
Wetlands, Ottauquechee River, Vermont


(c) 2010 Daniel C. Redondo hires hires hires
* Ricketts, T.H., E. Dinerstein, D.M. Olson, C.J. Loucks, et al. (1999) Terrestrial Ecoregions of North America: A Conservation Assessment. World Wildlife Fund - United States and Canada. Island Press, Washington, D.C. pp. 170-175.
Except as noted, images copyright 2002-2004 Steve Baskauf - Terms of use