Bioimages home (click on an image to enlarge)
view this page in its intended navigation context
Mississippi Lowland Forests (WWF ecoregion NA0409)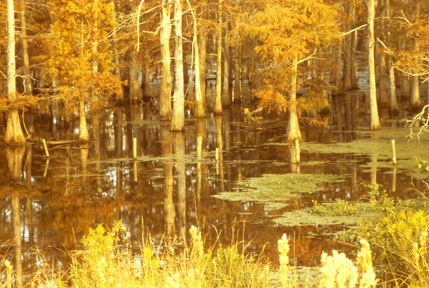 Taxodium distichum (bald cypress) swamp, Louisiana (c) 2001 Maurice J. Kaurmann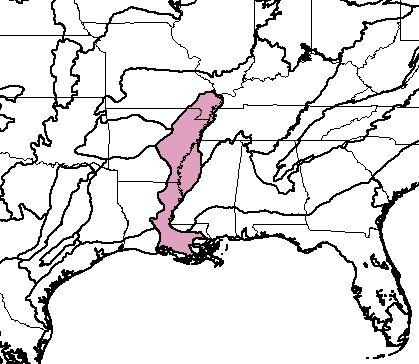 Source of bioregions data: Olson, D. M. and E. Dinerstein. The Global 200: Priority ecoregions for global conservation. (PDF file) Annals of the Missouri Botanical Garden 89:125-126.
Distinctiveness (1=highest,4=lowest): 3 (bioregionally outstanding)
This ecoregion is part of an important migratory bird flyway. Bottomland hardwood forests were among the most interesting ecological communities in U.S., but nearly all in this region were destroyed.*
Conservation Status (1=most endangered, 5=most intact): 1 (critical)
About 5-9% of the habitat is not converted to agriculture and other uses. Blocks of remaining habitat are in the wettest sites and are not representative of the ecoregion's major habitats. Remaining blocks of habitat are fragmented and threatened by alteration of river flow and logging.*
Characteristic species*


River swamp forests


Mississippi River, Meeman-Shelby State Park, Memphis, Tennessee (c) 2005 Steven J. Baskauf hires

Heron Pond swamp, Cache River State Natural Area, southern Illinois (c) 2004 Steven J. Baskauf hires

Taxodium distichum (bald cypress)

Cephalanthus occidentalis (common buttonbush)

Fraxinus caroliniana (water ash)

Planera aquatica (water elm)

Salix nigra (black willow)

Lower hardwood swamp forests

Carya aquatica (water hickory)

Acer rubrum (red maple)

Fraxinus pennsylvanica (green ash)

Betula nigra (river birch)

Packera glabella (butterweed)

Impatiens capensis (jewelweed)

Osmunda regalis (royal fern)

Backwater forests (seasonally saturated, includes species in lower hardwood swamp forests)



Cache River State Natural Area, southern Illinois (c) 2002 Steven J. Baskauf hires hires
Liquidambar styraciflua

(sweet gum)

Platanus occidentalis

(sycamore)

Quercus laurifolia

Quercus phellos (willow oak)

Toxicodendron radicans (eastern poison ivy)

Smilax spp. (green briar)

(trumpet creeper)
* Ricketts, T.H., E. Dinerstein, D.M. Olson, C.J. Loucks, et al. (1999) Terrestrial Ecoregions of North America: A Conservation Assessment. World Wildlife Fund - United States and Canada. Island Press, Washington, D.C. pp. 194-195.
Except as noted, images copyright 2002-2004 Steve Baskauf - Terms of use