Bioimages home (click on an image to enlarge)
view this page in its intended navigation context
Appalachian mixed mesophytic forests (WWF ecoregion NA0402)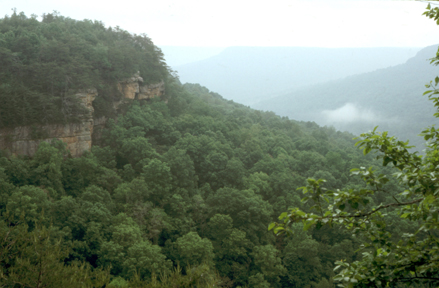 Savage Gulf State Natural Area, Tennessee (c) 2005 Carol and Steve Baskauf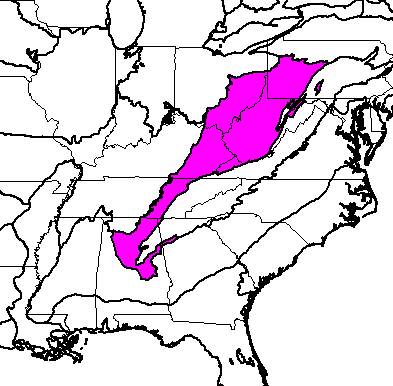 Source of bioregions data: Olson, D. M. and E. Dinerstein. The Global 200: Priority ecoregions for global conservation. (PDF file) Annals of the Missouri Botanical Garden 89:125-126.
Distinctiveness (1=highest,4=lowest): 1 (globally outstanding)
This ecoregion represents one of the most biologically diverse temperate regions in the world. As many as thirty canopy tree species may be found at a single site. The freshwater communities are the richest temperate freshwater ecosystems in the world.*
Conservation Status (1=most endangered, 5=most intact): 1 (critical)
95% of the habitat has been converted or degraded. Conversion and fragmentation through logging and development are primary threats.*
Characteristic species*


Magnolia acuminata (cucumber-tree or cucumber magnolia)

Oaks:

Quercus montana (chestnut oak)

Quercus alba

(white oak)

Quercus rubra

(northern red oak)

Hickories:

Carya alba (mockernut hickory)

Carya cordiformis (bitternut hickory)

Carya glabra (pignut hickory)
Carya ovata (shagbark hickory)

Juglans nigra (black walnut)
Ulmus serotina (September elm)

Betula alleghaniensis (yellow birch)

Fraxinus americana (white ash)

Tillia americana ssp. heterophylla (white basswood)

Acer pensylvanicum (striped maple)

Acer saccharum (sugar maple)

Robinia pseudoacacia (black locust)

Pinus virginiana (Virginia pine)

Liriodendron tulipifera (tuliptree)

Nyssa sylvatica (blackgum)

Tsuga canadensis (eastern hemlock)

Prunus serotina (black cherry)

Liquidambar styraciflua (sweetgum)

Fagus grandifolia (American beech)

Aesculus flava (yellow buckeye)

Castanea dentata (American chestnut) formerly a dominant canopy species, but now nearly extinct

Kalmia latifolia (mountain laurel)
Some views from the ecoregion


cliffs, Savage Gulf State Natural Area, Tennessee (c) 2005 Carol and Steve Baskauf hires



(Left) Forest, (right) edge of Cumberland Plateau near Monteagle, Tennessee. (c) 2008 hires hires
Fall Creek Falls State Park, Tennessee




In Tennessee, the mixed mesophytic forest lies in the Cumberland Plateau. Streams cut through the plateau (left), producing spectacular waterfalls (center) and deep "gulfs" or ravines (right). hires hires hires





The varying aspects of the slopes and microclimatic effects of the ravines (far left) supports a large variety of trees (up to 30 species at a given site). Elements of adjacent ecoregions such as the higher elevation Blue Ridge forests (such as hemlock [center left] and magnolia [center right]) and lower elevation ecoregions combine to form one of the world's most diverse temperate forests. Although primarily deciduous, hemlocks and pines (far right) are also present. hires hires hires hires
* Ricketts, T.H., E. Dinerstein, D.M. Olson, C.J. Loucks, et al. (1999) Terrestrial Ecoregions of North America: A Conservation Assessment. World Wildlife Fund - United States and Canada. Island Press, Washington, D.C. pp. 337-340.
Except as noted, images copyright 2002-2005 Steve Baskauf - Terms of use