Bioimages home (click on an image to enlarge)
view this page in its intended navigation context
Allegheny Highlands forests (WWF ecoregion NA0401)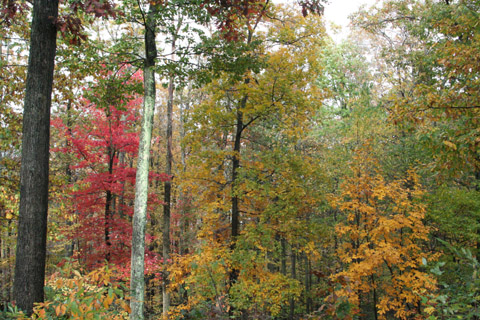 Forest near Greentown, Pennsylvania in autumn.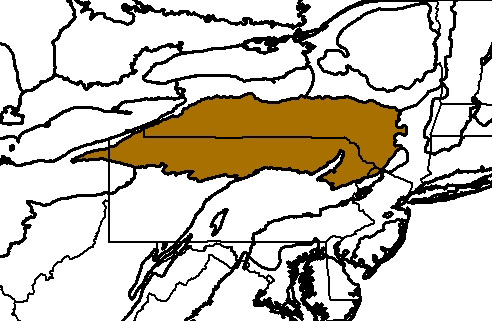 Source of bioregions data: Olson, D. M. and E. Dinerstein. The Global 200: Priority ecoregions for global conservation. (PDF file) Annals of the Missouri Botanical Garden 89:125-126.
Distinctiveness (1=highest,4=lowest): 4 (nationally important)
The forests contain a mixture of northern and southern species. The ecoregion also has a unique pine barren community in the Pocono Mountains.*
Conservation Status (1=most endangered, 5=most intact): 2 (endangered)
Nearly all of the original forests have been logged with only 1% intact. However, some logged areas have been reforested. The original hemlock-beech and white pine forests have been mostly replaced by hardwoods.*
Characteristic species*
Tsuga canadensis (eastern hemlock)
Fagus grandifolia (American beech)
Acer saccharum (sugar maple)
Acer rubrum (red maple)
Picea glauca (white spruce)
Picea mariana (black spruce) (c) 2004 Maurice J. Kaurmann


Fraxinus americana (white ash)
Prunus serotina (black cherry)
Pinus strobus

(white pine)
Some views from the ecoregion
Mixed forest, eastern Pennsylvania







(left 4 images) near Blooming Grove, Pennsylvania, (right 2 images) near Greentown, Pennsylvania hires hires hires hires hires hires
* Ricketts, T.H., E. Dinerstein, D.M. Olson, C.J. Loucks, et al. (1999) Terrestrial Ecoregions of North America: A Conservation Assessment. World Wildlife Fund - United States and Canada. Island Press, Washington, D.C. pp. 258-260.
Except as noted, images copyright 2002-2011 Steve Baskauf - Terms of use